Maintenance workers should not lose their benefits
The university told its facilities employees two weeks ago that Suffolk is looking into outsourcing facilities and maintenance jobs to a private contractor. Around the same time, the university announced that it is going to give $1,000 after-tax bonuses to its employees.
This doesn't seem fair to facilities employees. Last Thursday, a group of them marched into 73 Tremont with the hopes of speaking to higher-ups at Suffolk.
They did not get through to anyone that day. In a statement released the next day, university spokesman Greg Gatlin said, "We continue to maintain our strong commitment to and support of the SEIU and our union workers. We will require any potential contractor that is brought in to hire all of the current union facilities workers, and all of these facilities jobs will remain union jobs going forward."
The statement also said, "Exploring a possible contracting agreement is part of a University-wide effort to be cost-effective so that we can continue to provide accessibility to students whose families are challenged with today's costs of private higher education."
On Wednesday, Suffolk employees received the statement from Andrew Meyer, chairman of the Board of Trustees, saying that the Board approved a $1,000 after-tax bonus for regular employees at Suffolk for their "exceptional work of the faculty, administration and staff over the past academic year" that will be awarded to employees this spring.
Meyer said, "On behalf of my colleagues on the Board, let me say thank you for your extraordinary commitment to this great University, and for all that you do on behalf of our students, alumni and the entire Suffolk community."
A maintenance worker who has chosen to remain anonymous had a conversation with me last week about how the workers are going to lose benefits for themselves and their families. The worker has been employed here for years.
After receiving the statement sent by Meyer, this same maintenance worker told me that this past winter, obviously a particularly heavy one, maintenance workers were the ones here to clean everything up.
The same employee thinks it is unfair that Suffolk wants to contract out its facilities operations and have current employees' contracts renegotiated. The employee felt underappreciated after working here for so long, and unsure of how the workers were going to support their families.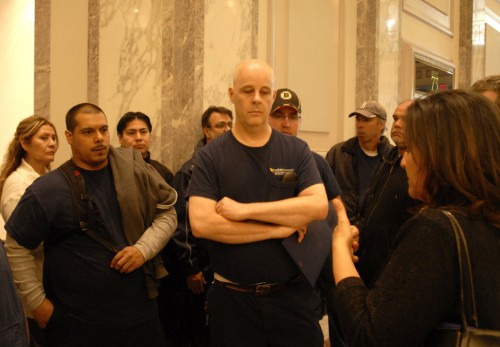 The maintenance workers are a part of a union and would not be able to receive the bonus anyways because they are paid under the terms of a contract. However, when a letter is sent to all employees announcing a $1,000 bonus for their hard work, it seems unfair that maintenance workers are not a part of that "thank you," especially as they deal with possibly losing their benefits.
Spokesman Greg Gatlin did not have a figure available on how much money Suffolk is going to pay employees in bonuses.
Don't get me wrong, I know many Suffolk employees who say they are way overdue for a pay raise.
However, our facilities workers are an important and integral part of our university.
This looks wrong, wrong, wrong, Suffolk.
Look to be cost-effective elsewhere, instead of charging students more and cutting benefits for our facilities employees. If you choose to outsource facilities operations, can current facilities employees keep their benefits and current pay? They deserve to.
I'd like to thank our maintenance workers for doing the difficult job of cleaning up after people who don't clean up after themselves, for keeping our school looking pristine at all times, and for working especially hard this winter as a record amount of snow covered our campus.
Maintenance employees, I appreciate you. I hope you don't lose the benefits you have now, and that you all can support yourselves and your families, as you have done for years, after your contracts are renegotiated.
I hope Suffolk can care about all of its employees in the same way it cares about being cost-effective.
Leave a Comment