Where do students live? West End has most Suffolk students per postal code
After a measure by Mayor Martin J. Walsh last year following a scathing report on detrimental housing conditions college students were living in, institutions in the city are required to submit addresses of students living off campus to the Inspectional Services Department.
The city has recorded a total of 2,093 Suffolk University undergraduate students living in off-campus apartments across the city, according to data the university provided to the city.
In 2013, a Boston University student named Binland Lee, who was living in an overcrowded apartment in the city, died after a fire rampaged the apartment she shared with other students.
Walsh's measure was implemented after The Boston Globe conducted an investigation that resulted in a three-part series published last spring. The series, "Shadow Campus," showed how commonly students moved into ill-managed apartments, and highlighted landlords like Anwar Faisal, who owns many properties in the city and has rented apartments that were not up to code to Boston students.
Although the Inspectional Services Department did not have data on exactly how many Suffolk University students have lived or currently lived in apartments in violation of city code, the department's spokeswoman, Lisa Timberlake, confirmed that some students are living in apartments that do violate city code.
From a sample of about 17 inspections that took place on Feb. 24 and March 25, the most infractions — nine —  occurred in Fenway. Roxbury and Mission Hill had the second highest number of infractions, according to data provided by Timberlake.
The most common violation was apartments without smoke detectors, according to the small sample of violations sent to the Journal by the department.
Based on addresses sent to the city by Suffolk University, the Inspectional Services Department's data showed that the most undergraduate Suffolk students live in high numbers in the following areas: 224 in the North End, 259 in the West End, and 211 in the Chinatown/Tufts Medical area. Hundreds of students also live in East Boston, Allston, Brighton, and the Fenway/Kenmore area.
Timberlake said in a telephone interview that the list was created in the fall after universities and colleges in Boston reported their students' information.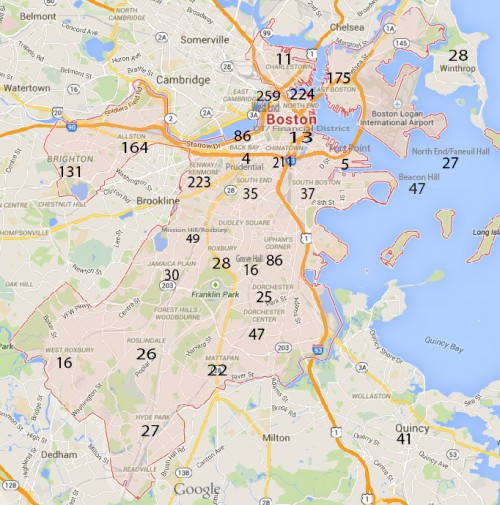 Leave a Comment