The first Ford Hall Forum of the spring semester brought a knowledgeable panel of local political experts to discuss the answers to tough questions at the Old South Meeting House Thursday. Professor and Chair of Suffolk's Government Department, Rachael Cobb, who has researched voter issues and other civic life topics throughout her career, moderated the event.
The panel featured Jim Stergios, the executive director of the Pioneer Institute, a conservative think tank in Boston; Alan Solomont, Dean of Tisch College at Tufts University and a former U.S. ambassador to Spain and Andorra; and David Paleologos, the director of Suffolk's Political Research Center.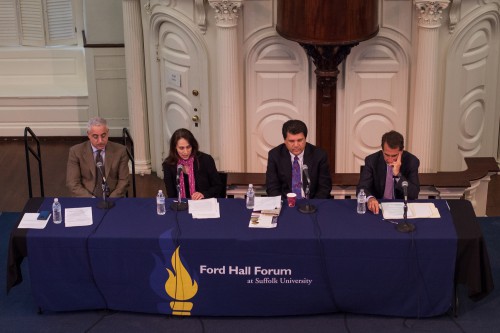 The first order of business was determining why voter participation was lower than it could, and should, be. Each panelist agreed that was true, but each gave different reasons why. Stergios noted that voters' trust in the government is at the lowest point it has ever been.
Paleologos pointed out that a disproportionate number of respondents in a 2012 USA TODAY/ Suffolk poll of unregistered and unlikely voters were young, disabled, and people of color, compared to a typical likely voter poll. This indicated, among other things, that those respondents in a poll of unregistered voters are unhappy with the current political situation.
The day of the week that elections occur may play a bigger role than some think, according to Solomont, who pointed out that elections often fall on Tuesdays. Many voters report they can't make it to polls during the busy weekday, he said, and voter identification laws also make the voting process harder.
"Three and a half million more people would have voted in the last presidential election if same-day registration was available across the country,"  he said, adding that people who register closer to election day are more likely to vote. To put that figure into perspective, about 129 million Americans voted in the 2012 presidential election, according to the official election results by the Federal Election Commission.
Another problem keeping Americans from the polls is how much influence voters feel they have.
"As issues move into the federal level, voter interest declines," Stergios said. However, he also noted that fewer voters participate in local elections, because they perceive them to have less power than federal elections. Voters feel that national issues are of greater importance, and often look to the federal government to solve issues that were once considered local or state issues, he said.
During the question and answer period, audience members suggested a variety of ways to get more voters to hit the polls. One person noted that voting is mandatory in Australia, where eligible citizens who don't vote pay a fine, and that Australia has a  very high voter participation because of this. The participant also added that colleges are expanding their civics education there. In their response, panelists seemed to agree that better educated voters would only go so far in boosting turnout.
"More transparency would boost confidence in the political system," Stergios said. He noted that politicians get to keep money they raised in an election, but did not use. This leaves them better prepared in their next campaign, where they can get a jump on newer candidates who have to start raising money from scratch.
Another audience member wondered if allowing universities to host polling stations on Election Day would boost young peoples' involvement. Cobb said the proximity might help, but that laws and regulations dictate where polling stations are located.
As Stergios noted, moving polling stations would not necessarily reach other demographics fairly. Holding polling stations at a college may benefit the more affluent young people who go there, but it isn't as advantageous for less affluent young people, he said.
The next Ford Hall Forum called "Virus" will discuss how politics, science, and human nature intersect to curb the transmission of diseases.