Nonprofit photoshoot raises awareness for marriage equality, discrimination
Despite the frigid weather, more than 750 people from all over Massachusetts and its neighboring states traveled to the W Boston Hotel to take part in NOH8 campaign's open photo shoot. Most participants wore NOH8's classic uniform, a plain white tee, temporary NOH8 face tattoo, and duct tape over their mouths. Some even brought their own props to personalize their photo.
NOH8 is a nonprofit organization aimed at raising awareness for marriage equality and anti-discrimination through its interactive media campaign. Their main means of protest is through photographing people with the NOH8 symbol on their body, and mainly on their face.
Those in attendance wore their attire with pride as they lined up to have their picture taken by celebrity photographer and NOH8 co-founder, Adam Bouska. The NOH8 photo shoot had such a large turnout that the timing for the event needed to be extended. Rather than starting at 1 p.m. and ending at 4 p.m., the event started at 11 a.m. and ended at 6 p.m.
NOH8 was founded in 2009 as a response to Proposition 8, a California state constitutional amendment that prohibited same-sex couples from having their marriage recognized under California law.
Although the Supreme Court deemed Proposition 8 unconstitutional in June 2013, the NOH8 campaign continued to thrive as a nonprofit.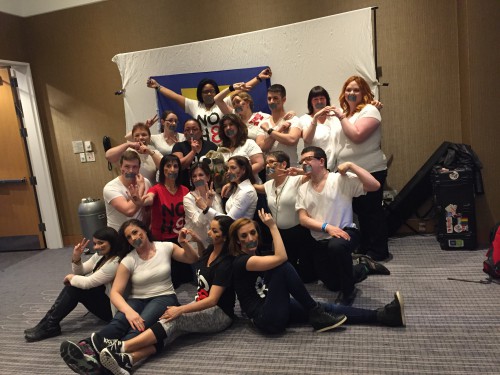 Participant Crystal Diamonds said, "It promotes our pride for who we are. It gives the drag world a chance to be able to change the outlook on others. There's not too much of this out there for us, so to come out here and do photo ops like this is even better."
Each participant could take a solo photo and/or do a group shot. A single photo cost $40 per person and a group photo cost $25 per person. Participants also had the chance to show their support for NOH8 and the people they represent by buying merchandise such as bumper stickers, T-shirts, and silicone bracelets.
Bouska wanted to make sure that everyone felt they could be a part of the event, and the event was open to everyone, including children and family pets. "It's important to show that everyone can support; it's something that everyone can be a part of no matter their age, race, or sex," said Bouska in an interview.
Bouska started the campaign when he put duct tape over his mother's mouth and uploaded the picture that he took of her on to Facebook. Part of Bouska's inspiration for the idea came from another organization's protest against inequality.
"I saw people using victims of hate photos online where the logo was covering up people's faces. As a photographer it hurt me to see people hidden behind a logo, so I tried to show people," said Bouska.
"I'm at this event to raise awareness for certain things that haven't gotten enough attention such as women's rights, gay marriage, racial inequality, and religious discrimination," said Nick Whooley, a two-time participant of the campaign's open photo shoot.
"We've seen a lot of an impact with our protest. We've done over 45,000 photos and a picture is worth a thousand words," said Chris Hayden, the NOH8 studio manager and the creator of all of NOH8's public service announcements.
According to Hayden, the NOH8 campaign has had over 250 photo shoots in 19 different countries and in 45 of the 50 states. Saturday was NOH8's third time coming to Boston to do a photo shoot.
Leave a Comment
About the Contributor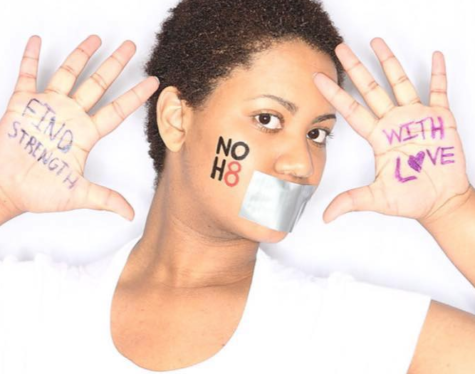 Katherine Yearwood, Staff Writer


As a senior at Suffolk University, I major in Communications with a concentration in print journalism and a minor in sociology. I have worked with The Suffolk Journal since 2015. The stories that have been the most electrifying to write are the ones where I am working with people who inspire me or the ones that allow me to call attention to social justice issues on or off of Suffolk's campus.