College recruiting: Leyden's never-ending off-season
College sports fans love this time of the year because most high school student athletes declare where they will attend college.
Things work differently with Suffolk athletics than other collegiate teams since they are a Division III school.
Division I and II offer athletic scholarships according to the NCAA website. This means the only monetary help student athletes at Division III schools like Suffolk can receive is financial aid that they qualify for, or academic scholarships.
Coach Edward Leyden is in his 21st season with the women's basketball team, and he is in charge of recruiting the players.
"Our school is the same as any D-III level and it never ends, that's the thing. It actually beyond never-ending. It overlaps," Leyden said about the school's recruitment process.
Leyden's work does not end when the final buzzer sounds, he is looking to fill out the roster for next season. It isn't just phone calls and letters to players, the season never really ends according to Leyden.
"A great example is that just this year I had to go to a showcase called 'Hoops Mountain' (a basketball camp) where there were 150 students we looked at," said Leyden. "Every weekend from now until July, I'll be in the gym on Saturdays and some Sundays. The season ended March 16, and recruiting started four days later. So at the same time I am recruiting for this year's team, high school students have until May 1. There is no break for Division-III schools, you have to call kids, develop relationships with them, try to get them to visit the campus."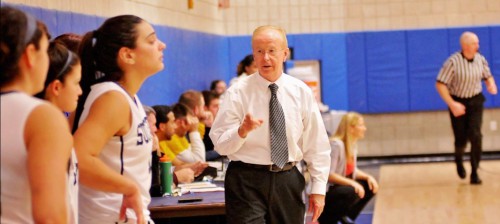 The coach went on to explain how each team at Suffolk strives to find the best players physically and academically.
"Academics are huge," said Leyden. "We're always looking for the brightest and do the best for the university."
Leyden explained the university, in the past decade, has finished twice in the top-20 for academics for a Division III school.
In Division I basketball, top-tier players usually commit to a college after receiving multiple offers. The player then narrows down his or her options to usually three or four schools, then the selection process has becomes a spectacle for the player's decision.
A big misconception in Division III sports is that the recruited players are benchwarmers. But, in reality, many of those players were starters in high school.
"The process has changed," said Leyden. "Last year, the big showcases were in Washington D.C., there was a Nike showcase in Chicago, too. Boston is a very attractive place to students all over the country. All of our teams have expanded beyond the New England area."
Nine of the 12 players on the Lady Rams' roster are in-state students, and the entire roster is from the New England area. Since 2011, former forward Jessica Bard is the only player who hailed from outside New England. Leyden would not be surprised to see more players from other states and countries on the women's basketball team in the future as Suffolk's recruiting continues to go beyond New England.
The experience may be non-stop, but Leyden enjoys the process.
"You meet so many nice families and kids," said Leyden. "I have gotten cards from kids, even if they choose another school … You build a relationship with them and it has been a pleasant experience. Once kids experience dorm life in an isolated area, they appreciate being in a city. You're out in the real world and get to mature in a city."
Leyden credits the school for working together with who and what they look for in a collegiate athlete.
"All of us, administration, athletics, we all work together and are proud of what we get done. It is team work, and it is important we are all on the same page."
Leave a Comment