Softball wins eight straight games
The term "hot streak" does not do the softball team justice. The Lady Rams are on fire.
The softball team conquered Salem State in a doubleheader Monday, which extends their winning streak to eight games.
They won the first game 14-5 in five innings, then won 9-6 in the second game against Salem State. Scoring 23 total runs in 12 innings on the same day is monumental for the Lady Rams.
In the 2013-14 season, the Lady Rams were 11-11 in the GNAC. So far this season, they are 9-1.
During the winning-streak, they have outscored opponents 83-36.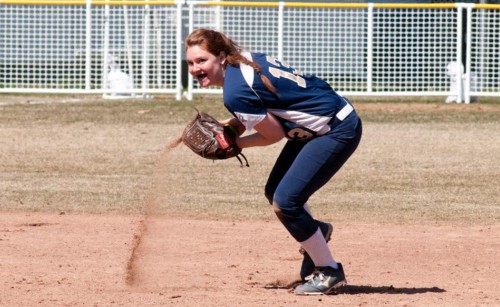 No pitcher for the Lady Rams is below a .500 win-percentage and none of them have more than 4.00 ERA.
Pitcher Sarah Chasse has thrown 54 innings this season, but her value does not end on the mound. She is batting .359 with 14 hits on the season. Being on the mound and in the batter's box has never intimidated Chasse.
"I've always balanced it out," Chasse said. "I've been seeing the ball really well at the plate. On the mound, I'm seeing specific spots to throw at."
Freshman Delaney Sylvester is averaging .477 at the plate. She is one of nine players batting more than .300. So in short, the entire lineup is dominating at the plate.
"Definitely our hitting has been a factor," Chasse said. "All of the girls are making contact, and so far we have many hits and singles.
Chasse is optimistic about the team's conference play, and credits the majority of success to the Lady Rams' batting.
The players have a total of 223 hits so far this season, and hope to continue their hot streak at the plate with 15 games left this season.
The Lady Rams are undefeated since the start of April and have several doubleheaders down the road.
Leave a Comment