Starbucks' CEO Howard Schultz got more than he bargained for when he launched a campaign called "Race Together," which called on baristas to write that phrase on customer's cups in hopes that it would be a catalyst for discussions on racial issues.
The campaign was not universally accepted. Customers of the beloved Seattle coffeehouse chain saw it as an encroachment of their personal space. The outcry on social media was intense. Baristas stopped writing on customers' cups after one week, according to USA Today.
Despite the negative backlash, Schultz is standing behind the campaign. It appears he wants Starbucks to be a place in America to discuss race. And Starbucks' campaign was a good place to start.
The topic of race in America is a touchy and uncomfortable one for a lot of people. Schultz was trying to change that. On the last day of the campaign, Schultz said in a letter to employees, "An issue as tough as racial and ethnic inequality requires risk-taking and tough-minded action."
Last year, in reaction to the shootings of African-American men by white police officers, Starbucks hosted unscripted forums with their employees to talk about race. For more than an hour, Starbucks employees of all ages, races, and ethnicities passed around a microphone and shared their personal experiences, according to a statement on Starbucks' website. Many employees called it "the most emotional and powerful discussion" they had ever participated in.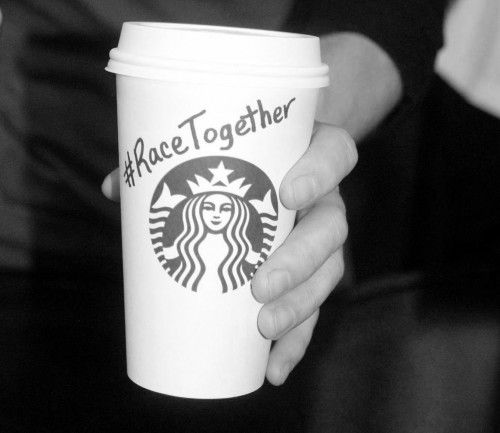 Schultz clearly had good intentions with the campaign, as "Race Together" certainly got people talking. However, I can understand why some people saw it as offensive or intrusive. The idea of an exhausted, 20-something-year-old barista haphazardly scribbling "Race Together" on my coffee cup makes the idea of the campaign come across as an afterthought. Shooting victims like Mike Brown and Trayvon Martin deserve more than that.
On the other hand, Starbucks should be applauded for making such a bold move. Schultz understands that discussions about race should not make people feel uncomfortable. According to a statement on Starbucks' website, one employee who attended the December forum said, "This is the forum to say I may not agree with you, but I understand you. You may not agree or understand me, but I have value, you have value, you perspective matters and we will hash this out in a safe place." He wants this campaign to open doors for people who are too accustomed to turning up their noses at one of the biggest issues this country has ever faced. Race should be in our daily conversations, and not limited to a protest in Ferguson, Missouri.
After reading the outburst on social media from opposers of "Race Together," you would think the campaign was the worst thing to ever happen to some of these people. The reaction to Starbucks' effort reveals why it is so difficult to get people to let their guard down and open up about their opinions and experiences.
Starbucks is still planning to continue the campaign, with three similar ones set to run this year. In his letter to Starbucks partners regarding "Race Together," Schultz wrote that he is committed to the cause, but will be taking stock of where it will go next.
"While there has been criticism of the initiative — and I know this hasn't been easy for any of you — let me assure you that we didn't expect universal praise," Schultz wrote in the letter to employees. "We leaned in because we believed that starting this dialogue is what matters most. We are learning a lot. And will always aim high in our efforts to make a difference on the issues that matter most."
Josh Petri, editor at Bloomberg Business, tweeted that Starbucks is not an appropriate  environment to discuss "sensitive cultural topics."
Well, where is the right setting to have the conversation? School? Church? Around the water cooler at the office? Why does the discussion have to be put on hold when you enter a Starbucks? It's uncomfortable for only one reason, and that's because people don't talk about it enough.