Men's tennis have high expectations for team
The men's tennis team looks to have another strong season on the court.
In 2014, the Rams fell short once again in the GNAC finals against the dominant Ramapo College tennis squad.
With key players graduating, the Rams will look to other players to fill the void.
Vincent Le is just one of the many returning upperclassmen for the Rams.
"I still believe that we have depth on the team heading into the season," said Le. "The newcomers this year have actually proved in practices that their skill level is on par with both Drew and Vassili [who graduated last year]. Even though losing Drew and Vassili took a blow to our team I still believe the newcomers have what it takes to fill in their position."
The biggest piece to the Rams' squad is No. 1 singles player Calixto Romero. He was the 2014 GNAC Player of the Year, finishing the season with a 7-2 record as the No. 1 singles seed. Romero's value does not end there, as he also held a 7-3 doubles record during the season, meaning each week, he would help the team in two of their nine matches.
Romero, of Peru, is not the only decorated athlete returning. Senior Marc Winkler, who was a first team All-Conference selection last season, is also returning with racket in hand.
Winkler was 2-0 at the No.1 singles spot last season. It is anticipated he will stay at the No. 2 slot this season behind Romero, making a strong one-two punch for the Rams' line-up.
Winkler, of Venezuela, is coming off a season where he finished 3-0 in his final regular season matches. Playing the entire season could help the team continue their regular season success.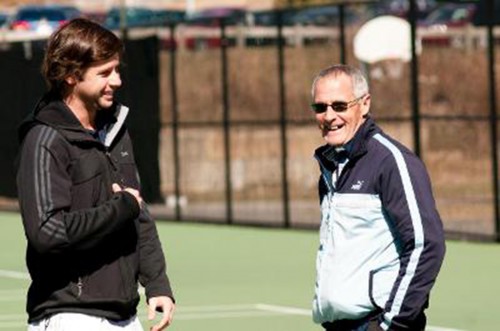 "Having Calixto and Marc on first and second singles has really helped us win our matches," said Le, junior from Wilmington. "Ever since I was a freshman, two years ago, those two were always in our lineup for our first and second singles spots as they proved throughout the years they were the strongest on our team. I'm happy for Calixto winning [GNAC] Player of the Year and he deserved it."
Winkler and Romero have plenty of experience together, especially doubles play. The two were 4-3 as doubles partners last season in the No. 1 doubles seed. They were also an All-Conference doubles team selection.
The team has more depth in returning players like Francesco Saia and Le. Both combine for a 4-7 singles record, but the experience they have gained may improve their overall game.
The team currently has five freshmen on the roster. One of the more intriguing newcomers on the roster is freshman and Saudi Arabia native Othman Hafiz.
"In all honesty, I think all of them [freshmen] would surprise me this season as I played against them in practice and their skill level is top quality," said Le. "But if I were to pick the strongest freshman it would be Alonso Vela, not only did he play since he was a kid but also Coach Counihan had praised him to the team too and has high hopes for him."
The Rams only have five home games this season in an 11-game schedule. Two of those home games are conference games in April, so since the Rams only play three conference opponents, having home-court advantage for two games is crucial to seeding well for the GNAC playoffs.
With the first game of the season and home opener is Thursday against Wentworth.
"Wentworth in the past had provided our team with some challenges to win but I believe that the team and I are ready for them both physically and mentally," said Le. "I also believe that winning this match will be the first step on the road for the team to make it all the way to the GNAC finals conference and win it all."
Leave a Comment