Alumna partners with Shark Tank investor on QVC
There are times when the stars seem to align and for some unprecedented reason, everything in our lives at that very moment works out well. The perfect opportunity comes around and when the chance is taken, it opens new doors to those brave enough to put their foot through them. Angela Cakridas knows this feeling. Her opportunity came by way of "Shark Tank" star Lori Greiner, who helped her launch a makeup product, which was featured in QVC and Greiner's book "Invent It, Sell It, Bank It!"
The Suffolk alumna was at the time a typical college student, unsure of what she wanted to do in her life and even her academic career. She changed her major multiples times — from public relations to nursing to finally graduating with a degree in marketing and a minor in business law. It was during her sophomore year when a creative idea that helped her with her makeup accessories changed her path completely.
She created a makeup accessory called the "5 in 1 makeup brush" that stores four makeup brushes inside a larger one, the concept similar to a Russian nesting doll. Cakridas' invention protects the brushes from bacteria and keeps bristles fixed and ready for efficient use. The brush also comes with a small bag to protect the outer brush.
"I came up with the idea on vacation with my family. We were on an island and going to a grocery store just to buy plastic bags for my makeup brushes," said Cakridas. "There's gotta be an easier way [to store the brushes], so I just thought of a design."
It took a stroke of luck and good timing for Cakridas to build her product from just an innovative idea. She credits Professor Sushil Bhatia for guiding her through the process of turning an invention into a business opportunity.
"[I] came back [to Boston from vacation] and came across an email from Professor Bhatia, he is an entrepreneur himself, he's done tons of inventions but he had something called 'innovation hour' and basically you go to him if you have any questions regarding inventions you wanted to get started," said Cakridas. "And I remember I met with him and I literally had just an idea and since then he's been guiding and helping me in setting deadlines. Having him push me to get it done was really helpful."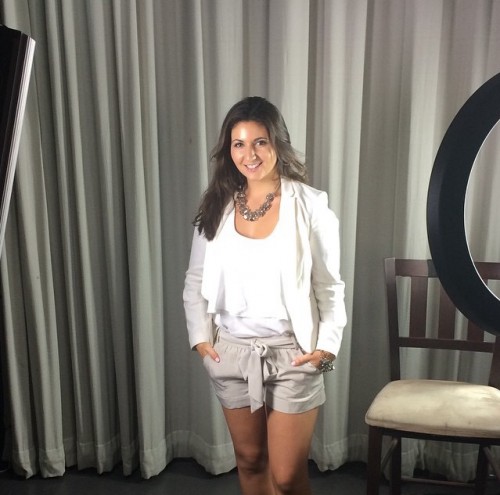 Creating a prototype and a patent were only the first steps in Cakridas' journey in entrepreneurship. She needed manufacturers who could create her product in a larger scale and also have people invest in her and her idea.
This is where Investor Lori Greiner came into play. Cakridas' father was watching "Shark Tank" before it became a mainstream hit show and Cakridas saw that Greiner had just invested in beauty products. She imagined a partnership with Greiner as a chance to launch her product and she decided to join a contest that would allow her to Skype with the reality star. Cakridas lost the contest, but that did not deter her spirit. She decided to leave a message to Greiner's personal Facebook account, and to Cakridas' surprise, Greiner saw the message and reached out to her.
Everything seemed to have just worked out for Cakridas, but she almost never partnered with Greiner. She met a manufacturer but he asked her to give him the money before he could start manufacturing the product. She borrowed money from her brother even though her entire family warned her against doing so, fearing that the manufacturer may be trying to scam her.
Cakridas went as far as having the check with her in person and was about to meet with the manufacturer when she decided not to go through with it. She believes it all worked out for the best. Especially since she got to eventually partner with Greiner, who had her manufacturers develop the product in a larger scale. The other manufacturer wanted money before the manufacturing, while Greiner was willing to work with her without asking for anything and there was more of a guarantee with that relationship.
"She can sell more in a minute than I can in six months. She's got more of a fanbase," said Cakridas of Greiner's influence in her success. Cakridas said her product has done well on QVC.
Greiner did talk to Cakridas about getting on the show "Shark Tank." She offered to have her meet the producers of the show. But Cakridas thought that if she got on the show there was no guarantee of getting an offer and the opportunity to work with Greiner was tantalizing.
Unlike some developers and entrepreneurs, Cakridas said she actually uses her own products and can attest to their effectiveness and efficiency.
Cakridas has not stopped inventing and is currently involved in a new makeup accessory that puts most women's makeup needs in one device, called the "All-in-One-Makeup-Tube." You can learn more from her website: Bellangia.com.
Leave a Comment