Student asked by resident director to remove Facebook photo of insect in Miller dining hall
After uploading a picture of a bug near food in the Miller Hall cafeteria to Facebook, a Suffolk freshman was asked by the university to remove the photo from the Internet.
The picture was uploaded Feb. 3 by Maya Smith to the Class of 2018 Facebook page. Just an hour later, however, Smith said the Resident Director of Miller Hall, John Rodriguez, asked Smith's Resident Assistant Liza Hurley to have Smith take the photo down. Hurley relayed the request to Smith via text message.
"My RA texted me and said the RD said it was 'unpleasant' and said that I need to take it down," said Smith. "The exact words in the message were, 'make sure that you remove the picture from social media as it is upsetting to see.' I would have fought her on it, but I have a lot of respect for her."
Rodriguez declined to be interviewed for this article.
Smith said she felt "disgusted" by the fact there was a bug near the food she ate, and she felt that it was even worse that the school was trying to cover it up.
When Smith told a Sodexo worker that she saw the bug near the food, she said the worker responded sarcastically, saying "oh, great."
"I was disgusted that the bug was near the food that I eat and disturbed that Sodexo didn't care," said Smith. "I thought making me take the picture down was reckless and proved that the school cares more about their name than the students' well being."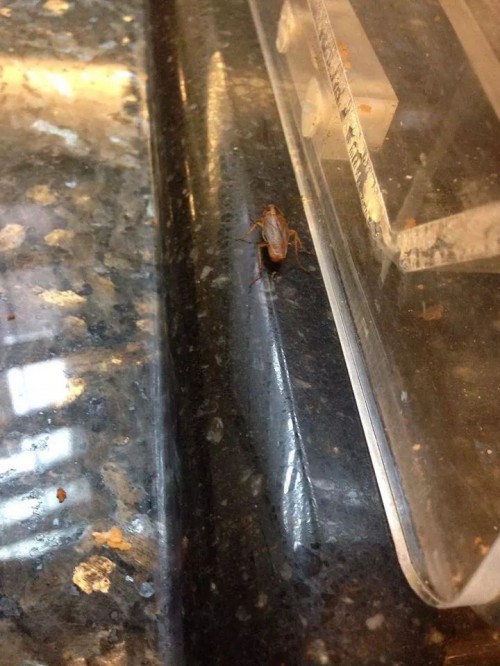 Freshman Kelly Mitchell took a screenshot of the picture before Smith removed it from the Facebook page and sent a tweet out of the screenshot, tagging the Department of Residence Life and Housing's Twitter with the caption, "Are you going to take care of this or am I going to have to write an article?"
The next day, the tweet was deleted after Mitchell was also asked to remove it from social media, according to Smith.
Mitchell did not respond to a request to be interviewed for this article.
Multiple students told a Suffolk Journal reporter they have seen bugs in the Miller Hall café before. Sophomore Cecilia Osimanti said she has seen bugs in the dining hall and other parts of the school.
"I have seen the bugs before, but they're all over the city. I'm not going to give a bias Sodexo is gross even if it is a health concern," Osimanti said. "On the day that they had the Thanksgiving dinner in the fall, I saw a bug on the counter and I told the manager. He took care of it, but you can't solve the problem by just killing one."
Greg Gatlin, a university spokesman, said Sodexo and Suffolk's facilities department collaborate in order to maintain the cleanliness of dining facilities, and that all Sodexo managers are certified by ServSafe, a food and beverage safety training and certificate program administered by the National Restaurant Association. The training includes protocols for pest control, he said.
"Sodexo works closely with Suffolk's facilities department with respect to pest control, inspections, and preventive maintenance," said Gatlin. "The university's facilities department has a frequent and strong pest control program. Facilities contracts with a pest control firm, Alamo Pest Control.  Alamo inspects for pests in dining areas once a week.  Immediate service is performed when a pest sighting is reported."
Some of the students living in Miller are finding alternatives to the food that's prepared in their residence hall. Freshman Sara Maloney said she refuses to eat the food Sodexo provides. She said she was appalled to hear that Smith was told to take the picture down.
"I think it is completely inappropriate they wanted her to take it down in order to avoid resident upset, but what is the point in that besides to cover themselves up," said Maloney. "If there is a problem, the more people that know the better, because numbers is what makes change not shoving things under the rug."
Maloney said she thought the residence hall could have informed students about the incident in an appropriate manner, like hall did via email in November when the dorm's hot water turned off.
"In November when the hot water stopped working they sent out an email, kept us updated, and solved the problem," Maloney said. "My question is why can you thoroughly inform residents about minor issues and not major ones like health violations? I pay far too much money, and care far too much about my well-being to be deceived about health violations in my very own cafeteria."
Gatlin said Sodexo managers will continue to report pest sightings after they happen.
"Dining Services team members will perform heightened maintenance with a focus on pest prevention," said Gatlin. "Managers will continue to report any pest sighting immediately, and Sodexo will follow up with Suffolk facilities and Alamo Pest Control."
Leave a Comment
About the Contributor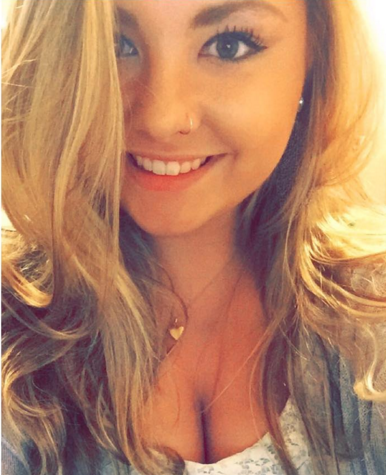 Alexa Gagosz, Previous Editor-in-Chief
Former Editor-in-Chief of The Suffolk Journal, fighter for equality and former World News Editor. Most likely found in The Journal's office, getting lost in the Massachusetts State House or frolicking around Boston Harbor. Thrives off of investigation pieces that consume her.