Chiang Yee: The Silent Traveller from the East comes to Adams Gallery
Walking into the Adams Gallery, images of tourist attractions around Boston with a Chinese-cultural flair decorate the walls of the first floor of the law school. The gallery is currently presenting an exhibit from the 20th century Chinese artist and author, Chiang Yee, in the self-titled exhibit, "Chiang Yee: The Silent Traveller from the East."
The artist called himself as a "silent traveller," had moved from China to the U.S.  as a poet, author, painter, and calligrapher. He was born in Jiujiang, China, in May 1903.
In 1924, he married Tseng Yun, and the couple had four children. He graduated from Nanjing University in 1925, and then started a variety of jobs, including teaching chemistry in middle schools, lecturing at universities throughout China, and then working as an assistant editor of the Hangzhou newspaper. At the time, he was disgusted by China and the government and shipped himself off, according Johns Hopkins University.
He was 30 when he left his family behind in China and moved to England, only knowing a handful of words in English, in order to study at the London School of Economics in 1933.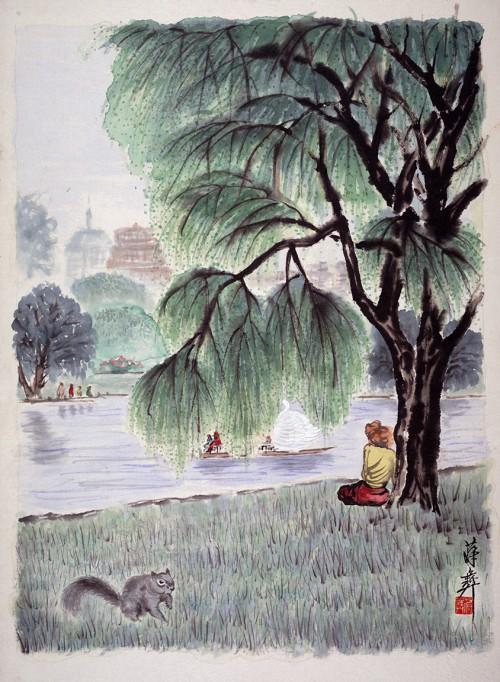 He began to teach in England when he started his "The Silent Traveller in…" series which continued throughout his life. The books varied in locations throughout the United Kingdom, Japan, and major cities in the U.S., including Boston.
Commentaries suggest  the books pictured images of a "sideways look" in a peaceful way to places that may seem strange to a Chinese national. He depicted images he might have been unfamiliar with, such as beards and large outdoor concerts in Boston.
The exhibit was brought to campus after English Professor and Director of the Asian Studies Program Da Zheng published a cultural biography with the same title of "The Silent Traveller." The two have similar backgrounds, as the author-artist and Zheng both moved from China to the West in order to pursue a higher education.
Zheng had first learned of Yee when he read his English-language book on calligraphy. Afterwords, Zheng, who was then studying in Shanghai at the time, started working toward translating the book into Chinese.
"I became in interested in Chiang Yee after my arrival in the U.S. in the mid-1980s," said Zheng. "When I was in China, I co-translated Chiang Yee's Chinese Calligraphy, without knowing that he was a travel writer and best known for his Silent Traveller series."
Zheng moved to the United States and realized that Yee was also a travel writer.
"I happened to see a copy of The Silent Traveller in Boston at an American friend's home after I came to Boston. The book had a beautiful painting of Park Street Church on its cover," he said. "It is a very beautiful painting and it is in Chinese manner, that is, painted with a Chinese brush, in Chinese style, on Chinese rice paper. In fact, the book itself is a Chinese American's observation of Boston, and it offers many refreshing comments and comparisons between China and the U.S. So I became very interested in this writer at once."
Zheng has always focused his research on Chinese literature, and recently began to also research Yee, who had worked on art, travel, children's stories, and memoir. Yee added a "fascinating subject" in Zheng's project, he said, especially after learning about his life accomplishments and life story.
"He is the one who translated Coca Cola into Chinese: Ke-Kou-ke-le, meaning 'Pleasing to the mouth, pleasurable to the heart,' which is considered a classic translation in China," Zheng said. "He is the first artist to paint pandas in the worlds. Since the 1930s, he painted over 1,000 panda paintings, and he was called 'Mr. Panda.'"
Zheng's book is about a cultural study of a man who had studied and travelled around the world after leaving China from a point of view of an outsider looking in.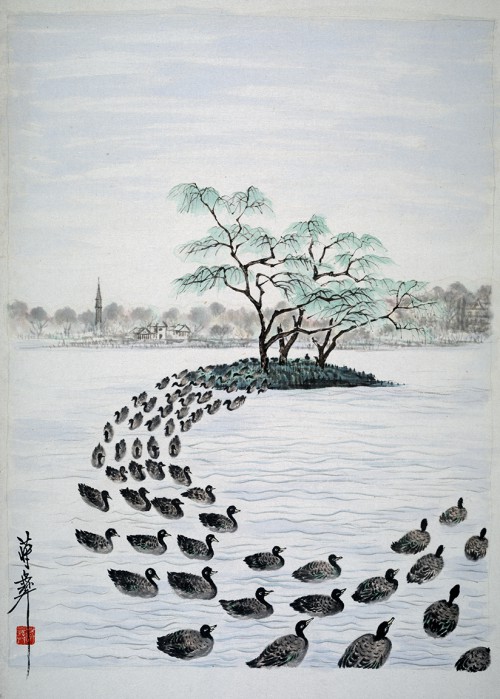 "He aimed to promote mutual understanding and appreciation among peoples all over the world through his writing," Zheng said. "He underlined commonalities between the East and West, hoping to bridge the gap and bring about peace."
Since its publication in 2010, the book has been printed in English, and later in Chinese.
"My biography, I hope, is a way for me to pay tribute to this wonderful writer and artist, and to bring about a good appreciation of his literary and cultural accomplishments," said Zheng.
Because Yee was a close friend of Boston Athenæum, the museum allowed Gallery Director Nancy Kelleher to reproduce the images and display them here at Suffolk.
Leave a Comment
About the Contributor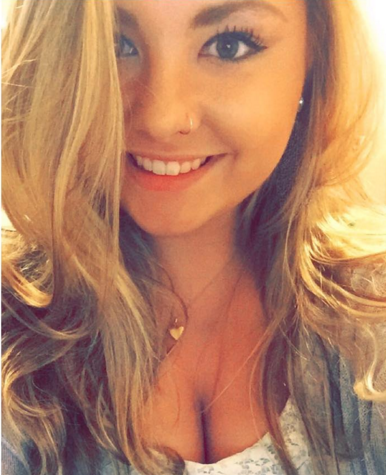 Alexa Gagosz, Previous Editor-in-Chief
Former Editor-in-Chief of The Suffolk Journal, fighter for equality and former World News Editor. Most likely found in The Journal's office, getting lost in the Massachusetts State House or frolicking around Boston Harbor. Thrives off of investigation pieces that consume her.