Next president should be less white, male, and status quo for the sake of students
Suffolk University is in a transitional period. When former President James McCarthy left in August, Interim President Norman Smith was brought in to use his expertise gained at Wagner College in New York to help Suffolk. Now, the search is on for who will replace him, and Chairman of the Board of Trustees Andrew Meyer is calling for the community to be engaged in the selection.
I would like to propose for diversity to be considered when choosing our next university president, one who I hope will more accurately reflect our diverse student body.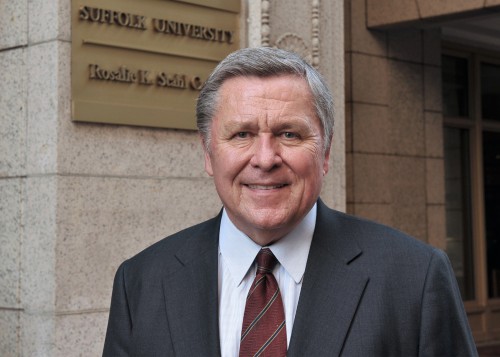 Since its first president in 1937, Suffolk's highest office has only been filled with white males, beginning with founder Gleason Archer, as listed on Suffolk's website. With a quick Google search, one can learn that these males have all been mostly from, born and raised in New England.
It is not surprising that only men served as presidents during the founding years of the university, considering the law school was originally all-male students and Suffolk was founded a mere 56 years after the first female college president, Frances Willard, was selected in Illinois in 1871. However, today, this pattern is outdated and remains unchanged despite grand movements that have advocated for gender and race quality in the U.S. through the decades Suffolk has endured.
I am a queer Mexican immigrant who was raised along the Texas-Mexico border. I come from a family that was once poor, but eventually became middle class. Coming to Boston, I was warned that people from "this part" of the country would act differently than me, would call me out on my accent, and might not like what I have to say with my "Mexican" ways. While all this was an overstatement of what I have actually faced, the notion that I would feel like an outsider remained true. Living in Boston, an area thousands of miles away from "mi tierra," I have had to come to terms with classism and race like never before. Surely, the 11 men who have led our university thus far have been qualified to hold the position (and very well paid), but a president cannot merely reflect a beautifully crafted résumé.
I would like a president at Suffolk who can relate and reflect my identities and intersectionalities. While I understand that one representation cannot symbolize everything for every student, an effort to diversify the president's office is not apparent, and that must change. I would like a president who can understand the experiences and needs of the diverse student body through personal memories, not only through mandatory extensive trainings they attended prior to taking office. I want them to say, "I understand you because I've been there once," not go back to review a handbook that instructs them how to handle diversity.
There is a "high priority to creating a truly multicultural, multiracial, gender-balanced community receptive to cultural diversity," according to the university's diversity statement. As the community considers new candidates to fill the highest position on campus, we should reflect this goal in our next president.
Leave a Comment