Season ends for men's basketball
The Rams season came to an abrupt halt Tuesday with the team falling to Albertus Magnus by a final score of 108-82.
The Rams end the season with an 8-18 record, after suffering through a sickness and injury-ridden February, in which the team lost eight of their nine games.
Junior forward-guard hybrid Adam Chick led the Rams in scoring in their playoff defeat with 24 points. He also added three assists, and was 90 percent from the free throw line.
Guards Caleb Unni and Curtis Casella added 13 and 10 points, respectively.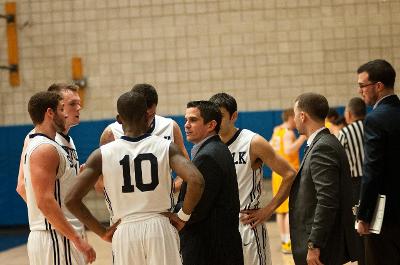 Freshman Quinn McCartney had a solid game off the bench, reeling in two offensive rebounds, three defensive rebounds, a steal and nine points.
Ultimately, it was turnovers, inaccurate shooting and inability to defend Alberts Magnus' forwards that doomed the Rams. This, in addition to Albertus Magnus' extremely accurate shooting, because the Rams shot at diminutive 38.2 percent, while their opponents were scorching hot with a 56.9 percent. The team committed 18 turnovers to Albertus Magnus' 11. The Rams were also bullied in the paint, giving up 48 points in that area of the court, something they will look to improve next season.
For the 25-1 Albertus Magnus squad, Victor Ljuljdjuraj and Tavon Sledge scored 18 points each, while Eian Davis dished out 13 assists. Four of the team's five starters scored double-digit points.
The Rams will be losing seniors Tom Gardner and Sam Nwadike next season. However, next year's team will have a top-heavy senior class, with nine juniors currently on the roster.
In addition, the Ram's starting five from tonight's playoff game are all expected to return.
Leave a Comment