Women's basketball extend win streak against Saint Joesph's
The fans in Regan Gymnasium were thrilled to see women's basketball win their fourth straight game Tuesday night.
The Lady Rams, 7-2 in the conference, defeated GNAC opponent Saint Joseph's Monks 68-51.
The women on the Rams and Coach Ed Leyden seemed excited but calm in their one-sided victory, and they even recieved a post-game visit by interim president Norman Smith.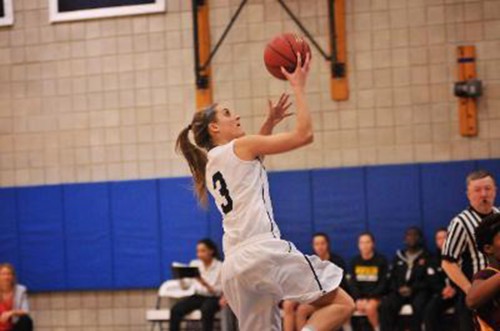 "It was great for the team to get attention from the president," said Leyden. "This team represents diligence, hard work, honesty and I think people can see we play really hard. We've been doing it for a long time so it was great that he recognized the kids."
The game itself showcased that the Lady Rams have plenty of defensive strength against the 6-4 Monks.
Seven of the nine players who participated in the game had at least one steal. The starting five had nine steals amongst them, with Alex Quadri leading the way with three.
Guard Shelby Santini showed off her quick hands with three blocks in the game, playing tight defense the whole game.
The game started out neck-and-neck, but the Lady Rams got more comfortable as the first half progressed. They managed a double-digit lead for a majority of the game.
Up by 10 in the final minutes of the second half, the Lady Rams kept the Monks out of the game with their fast paced offense and pressuring them on defense.
The Lady Rams' leader in points this season, Iliana Quadri, started the game with no points on five shot attempts (she went on to finish the game with nine points). Her in-game struggles prove the team could still produce offensively.
Kelsey Schiebel had a solid offensive game with 14 points. She shot .500 from the field and managed five rebounds from the guard positions.
Heading into the playoffs next week, the Lady Rams looked confident on the floor. The defense has been key all season, but now the offense is shining through with selfless passing.
The team as a whole made 10 total assists. They shot 42 percent from the field, which showed to be more than enough to get the win against the Monks.
The Rams only have two games left in the regular season. One is a make-up road game against Rivier on Thursday. The other game is Saturday at home against Mount Ida.
Both games are conference opponents.
The Lady Rams have fallen short of a GNAC championship in year's past, but their odds are looking fair with a good seeding and in-game execution.
In his 21st season, Leyden is no stranger to the postseason. The Lady Rams are currently second in the GNAC standings, which they can potentially lock with two wins.
"I think this is the fun part of the season," said Leyden. "Every game is big and I'm grateful they are meaningful and we are playing out our schedule. We're fighting for a big thing, we are fighting to win our league, which is cool, and it is a lot of fun."
Leave a Comment