Men's hockey looks to regain form
By Sammy Hurwitz
After starting the 2014-15 season in impressive fashion with a 6-0-1 record in November, the Suffolk men's hockey team has since struggled to earn points in bunches. Since their scorching hot start, the team has gone 4-7-1, and has dropped to fourth place in the ECAC conference.
"This week was tough, our team has been ravaged by the flu, and we lost practices due to the weather," said head coach Chris Glionna, who is in his 11th season with the team. "We lost in overtime to Johnson & Wales on a penalty shot and lost by a goal to the first place team Nichols, 3-2. Obviously we didn't play well on the road at Salve Regina. I think once we get healthy, we will start winning again."
The Rams have gone 10-8-1 overall thus far, and 4-3-1 in conference play.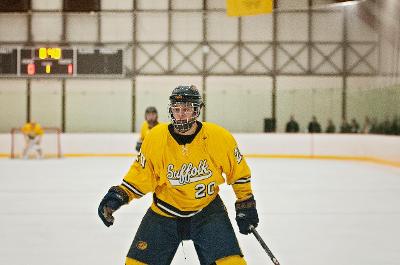 Health has undoubtedly been an issue among students and student athletes this season. The men's hockey team was hit exceptionally hard by the flu. Despite the sickness and the disaster weather, men's hockey has come to play day in and day out.
With the exception of their road loss to Salve Regina, the Rams have been focused through each game until the horn sounds. On their three-game losing streak, two of the three losses have been by one goal.
The Rams goal differential — not just recently but throughout the entire season — stands at a razor thin minus-three. It's evident that this season's ECAC conference is a very balanced group.
Despite the three-game dry streak, the Ram's offense has continued to look solid. They have averaged just more than three goals per contest.
Even in their down month of January, the group managed to score 24 goals in eight games. One of the offenses' most prolific point-getters has been forward Stanton Turner. The sophomore has 17 points on the season, 10 of those coming by finding the back of the net.
"Our league is very tight, anyone can beat anyone, on any night," Turner said. "I guess the bottom line is that we need to show up and play the full 60 every night. If we can do that, and if I were a betting man, I'd take our guys over anyone else's every time."
The Rams will need to dig deep, and power through the troubles created by sicknesses and weather to return to the team's winning ways of November. In the coming week, Suffolk will take on Western New England University. On senior night, the Rams will take on Curry. Both matchups are conference games.
The Rams have six regular season games remaining, and will look to snap their three-game skid, and improve their 10-8-1 record.
The Ram's game against Western New England has been postponed.
Leave a Comment