International opinion: Philippines wrongfully hid country's true face from pope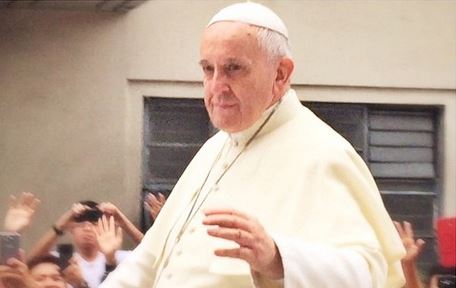 Hang on for a minute...we're trying to find some more stories you might like.
The Philippine government has been under scrutiny for allegedly hiding the unfortunate and downtrodden from Pope Francis during his visit to the country. Some media outlets have claimed that street children as young as 5 years old have been rounded up in detention centers. Officials claim they were sent to a resort.
The DailyMail reported that, through Nobel Peace Prize-nominated missionary Father Shay Cullen, they gained access to a detention center and found dozens of street children locked up with adult prisoners. A senior official also told the DailyMail there was an intensive round-up by the police to clear the streets for Pope Francis.
However, in an article from Rappler.com, Bahay Tuluyan, a non-government organization, claimed that people living in the streets were not locked up but sent to the Chateau Royale Sports Club and Resort, a luxury resort, to go swimming under the Department of Social Welfare Development program: Modified Conditional Cash Transfer. They claim the trip was not an act to keep them away from the pope but is their annual orientation and outing under the program.
The program was created to show the less fortunate the government can provide for them, so they are not left in the streets to fend for themselves.
My friends living in Manila have noticed that prior to the pope's visit, there has been a drastic decrease in the amount of street children. Also, sidewalk vendors moved and city workers cleaned the streets.
"I've lived in the area for four years, and it's my daily route," said Martin Rillas, a medical student of the University of Santo Tomas where the pope made one of his visits. "Everyday as I pass by the same area to and from school, street children can be found everywhere begging, and some would be sleeping on the streets. But they weren't around when the pope came."
As someone who grew up in the Philippines, I can understand why the government would want to temporarily displace street children and some families living in squalor. The areas the pope visited are usually teeming with filth and crime. The street children, however young they are, are usually part of a syndicate, and, as is often the case, will resort to pickpocketing. A friend of mine living there currently told me that whenever he runs into some kids begging and he chooses not to give them anything, they react violently with either a push or belligerently ask for assistance. But, I do not agree with hiding the less fortunate from the pope, who is heralded and has claimed he wants to lift the poor back from obscurity and make them his priority.
In a report on a Philippine television channel, ABS CBN, members of those displaced during the pope's visit have talked about their experience. They claimed 500 families were sent to a luxury resort. Up to two or three families were put together in one room, and they were not allowed to use the air conditioning in the room without an explanation.
One of the most embarrassing things the government has done is denying the reason for the abrupt displacement of those families. They have publicly stated it was a huge coincidence that the trip coincided with the pope's visit. Although they usually give plenty of notice, the families were given about two days worth of notice.
I do not understand why they don't just own up to it because it is so obvious that it is what they are doing. It is also strange that their annual trip happened on a January instead of a later time, and that there was no notice when they have claimed that usually, members of the program are given ample time to prepare.
Why would they even spend this much money on treating these people to a resort to show them how much they care? Shouldn't they be focused on giving them ample food and water and make sure their living arrangements don't get destroyed every time there's a huge typhoon?
It is strange that people have a habit of putting their best foot forward to act as if nothing is wrong from people who are there to help and not criticize. The government should have tidied up, but they should not have deliberately hidden the problems the country faces.