Excitement fills City Hall Plaza for Patriots send-off
City Hall Plaza was the place to be Monday morning, as fans of the New England Patriots gathered to celebrate the NFL team's departure to Glendale, Arizona, where they will take on the Seattle Seahawks in Super Bowl XLIX.
Decked out in jerseys and Pats beanies and waving signs in the air, the crowd cheered as the New England Patriots Cheerleaders entertained with a couple of routines. Fans danced along, evidence of the infectious atmosphere that the event provoked.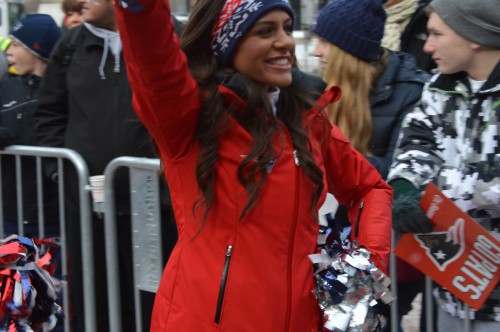 Mariana Silva, a Suffolk University sophomore, looked on eagerly while enjoying the mood.
"I came to see the Patriots before they leave and see the energy all the fans have," she said.
Appearances included Mayor Walsh, who addressed the crowd by stripping off his coat to reveal the number 12 jersey he was sporting. Also in attendance were Patriots head coach Bill Belichick and team captains Vince Wilfork, Devin McCourty, Matthew Slater, Dan Connolly, and, of course, Tom Brady. All spoke quickly with encouraging words about the game.
As Belichick took over the microphone, dressed smartly in a black suit and tie, fans cheered in appreciation, some even bowing their heads in the utmost respect. But nothing could compare to the reaction to Brady stepping up. Fan favorite that he is, the audience roared and began a chant of his name.
Fans are looking forward to next week's big game, and are confident in the Patriots' ability to bring home a win.
Ellie Leblanc of Boston said, with a big smile, "Not even a question, it's going to be a blowout."