The annual commemoration of Dr. Martin Luther King Jr., an event by Suffolk's office of diversity services, celebrated King's legacy as excerpts of his speeches and letters echoed from the walls of the African Meeting House.
"As Dr. King wrote in his letter from Birmingham jail," Chief Diversity and Inclusion Office Nicole Price said as she stood before a full audience, "'an injustice somewhere is an injustice everywhere.'"
Followed by remarks from university Chaplain Rev. Amy L. Fisher, the event was filled with moments that resonated with students, faculty, and community members in the audience. For weeks, marches and protests have occurred on the streets of Boston, organized by the Black Lives Matter movement, an action that some say takes inspiration from Dr. King's message on civil rights.
A special recognition known as the "Creating the Dream Award" was presented to senior Crystal Chandler.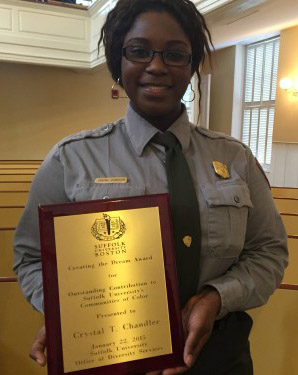 Chandler, described by the director of diversity services Jacinda Haro as a "social justice warrior," was recognized for outstanding involvement on campus to aid in creating an "inclusive, respectful, and safe environment" on Suffolk University grounds. She has participated in activism on LGBTQ rights, people with disabilities, and with Black Lives Matter.
On campus, she is a diversity peer educator, a member of the Black Student Union, and a resident assistant at the 150 Tremont residence hall.
Chandler first participated in a Black Lives Matter protest in Boston when she saw a group protesting outside of the state house from her dorm room the night Ferguson police officer Darren Wilson was not indicted for the death of Michael brown, an unarmed 18-year-old black man.
"It's about getting the word out there on what's happening," Chandler said in an interview after the Suffolk event. "It's not something new; it's something that has been going on for years. I love the movement because it makes you feel that something is being done, and that's the beginning of it to get these conversations started."
The Creating the Dream Award is handed out annually to either a staff member, organization, or student who "demonstrates a sustained and tangible impact on Suffolk's community of color."
"I was shocked!" Chandler said on being its recipient. "I was thinking, 'Wow, it's for a student. I wonder who it is … It's really humbling. This isn't just my award; it's everyone's award."
The keynote speaker invited to the celebration was Jay Smooth, a "leading voice in the sociopolitical realm." Smooth operates a video blog that touches on topics including race, politics, music, and pop culture.
"Today, we pay tribute to the work of Martin Luther King and to an entire generation of activists," he said.
Smooth spoke of "fearless empathy," commended millennials for the mass organizing across the country, and posed ideas on how to talk about race.
"It's important to know how to we can call out injustices with honesty and compassion without throwing punches," he said.
On protests in the streets that are criticized for disruption, Smooth said, "Dr. King knew more than anyone that civility was overrated," a timely point after a recent protest in the Boston area blocked the north and south entries to the city on Interstate 93.
"The truest way to support and remember Martin Luther King is to support the new generation taking the lead," Smooth said."Millennials have been responding to that call."