Hillary Clinton stuns in speech on race, equality at Conference for Women
The modern, pristine walls of the Boston Convention Center were full of true feminine grit as more than 10,000 female industry leaders came out to the 10th Annual Massachusetts Conference for Women.
The conference, an amalgamation of women across various industries and backgrounds, is the largest of its kind in the nation, according to president of Bentley University and Massachusetts Conference for Women board member Gloria Larson.
A morning of breakout sessions and exhibits on the main floor of the Center preceded a luncheon with speeches from Hillary Rodham Clinton and Lupita Nyong'o.
Clinton started her speech with comments on America's criminal justice system.
"Each of us have to grapple with some hard truths about the state of race relations in America," said Clinton, who then quoted Michael Brown's father, Michael Brown Sr., who said, "I personally hope we find out balance again," in reference to the criminal justice system.
She connected with the families of those affected, and said, "The pain and frustration that Americans are going through with the justice system right now. A lot of hearts are breaking and we find ourselves asking, aren't these our sons? Aren't these our brothers?"
Clinton addressed recent incidents in Ferguson, Missouri and Staten Island, New York, where in both cases black men were killed after confrontations with police, leading to investigations and a ruling from the grand jury in each state respectively.
The former First Lady said she is pleased to see that investigations in the system will be occurring, and that reforms must be put into effect.
"Despite all the progress that we made together, Africans Americans, most particularly African-American men, are still more likely to be stopped and searched by police, and charged with crimes, and sentenced with longer prison terms," she said.
Clinton talked about the issues that women and families face in the nation, and recounted her days as a lawyer and young mother taking care of her daughter Chelsea. She said she couldn't have done it without having a support system, and noted that Massachusetts offering paid sick days will contribute to lessening the anxiety that women and families feel daily when trying to keep their personal and professional lives in tact.
"Massachusetts voted on paid sick days, being just the third state in the nation to do so. And I think you have set a great model for every single state to move toward the polls, getting as many as we possibly can by 2016," the former secretary of state said.
Because Clinton mentioned the presidential race of 2016 when giving this answer, the crowd went ecstatic. However, Clinton dodged questions about whether she will run for president again.
When asked what qualities she thinks are important in a first gentleman, Clinton coyly diverted the conversation away from the race by talking about how difficult it is to be president, and how many hard choices President Barack Obama has to make everyday.
When asked how she developed a thick skin in politics, Clinton said, "Learning how to take criticism seriously and appropriately has been a great lesson."
Academy Award winning actress Lupita Nyong'o described Clinton as "literally a leader among men" in her keynote. Nyong'o described her journey to becoming an actress, and the state of "personal crisis" she felt when trying to decide what to do in life. When Nyong'o was cast in 12 Years a Slave, she said she couldn't sleep at night thinking that people would know she was an "imposter of talent," but fought it. She encouraged audience members to "recognize fear with compassion and act in spite of it," and "slay the dragons that are self-hate, self-doubt, self-denial."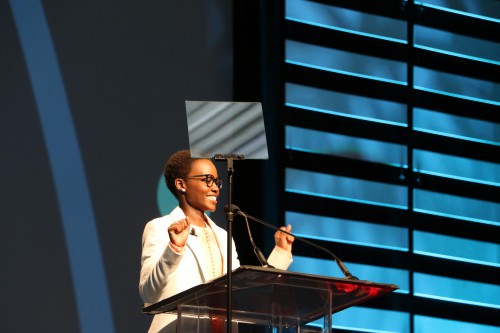 According to the American Association of University Women, Massachusetts ranks 16th in the nation for wage equality and women take home 79 cents for every dollar that a man makes.
Also, 46 of Massachusetts' top 100 public companies have no female executive officers, according to Boston Club. The Club describes themselves as one of the largest communities of women executives and professional leaders in the Northeast.
The well-attended conference offered dozens of speaker-led workshops on personal finance, business, work/life balance, education, health, entrepreneurship, and more, and was a commonplace for women to share their ideas, establish new contacts, and inspire one another.
Sponsors for the event included, but were not limited to, State Street Corporation, Suffolk Construction, Liberty Mutual Insurance, and John Hancock.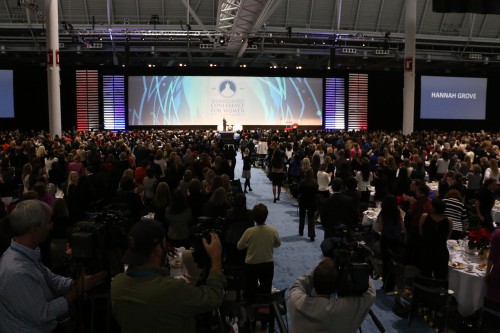 Leave a Comment
About the Contributors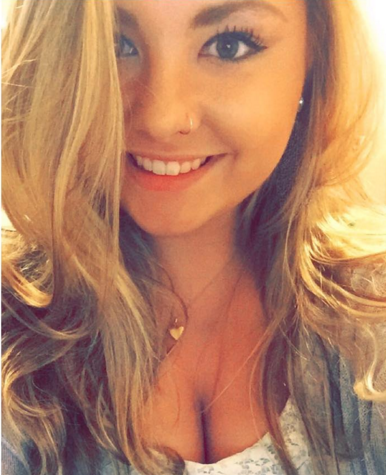 Alexa Gagosz, Previous Editor-in-Chief
Former Editor-in-Chief of The Suffolk Journal, fighter for equality and former World News Editor. Most likely found in The Journal's office, getting lost in the Massachusetts State House or frolicking around Boston Harbor. Thrives off of investigation pieces that consume her.