Poems and music entertain at annual African Diaspora
About 100 people gathered in the C. Walsh Theatre for the annual African Diaspora, a night of music, dance and spoken word.
The theme was "celebrating black excellence" and served as a form of motivation for students. It encouraged them to look up to celebrities like Oprah, Beyonce, or Jay Z, as role models.
Students from Suffolk University and other colleges came together to appreciate people who have fought against all odds to not just be succesful in life, but to also make a positive impact in the lives of others. The event was organized by Suffolk University's  Black Student Union.
"It was an excellent show," said Isaac Boateng, a sophomore majoring in politics and law. "It showed a lot of cultural differences here at Suffolk and that is good thing because it did not divide us, but brought us together as one party."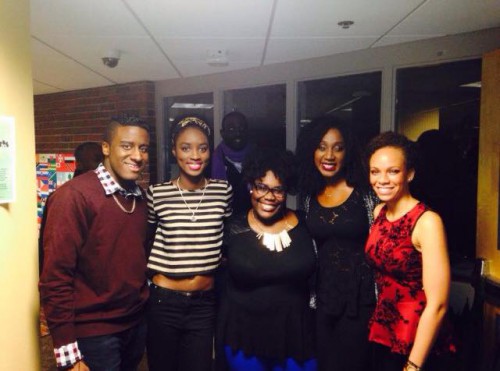 The two-hour event was hosted by Choppa the Beat Boxer, a renowned performer who has been featured in previous African Diaspora events and is committed to bringing black excellence to the limelight. The event featured performances by the Suffolk University Step Team, a group of students who enjoy rocking to rhythms and sounds using a mixture of footsteps and the clapping of hands, Ben P. and Syclone, both freshmen at Suffolk and are trying to make a name for themselves in the music industry, and Serina Gousby, who is a junior and a Suffolk Journal staff writer.
The night started with a spoken word titled "My Definition," by Gousby. With phrases like "My Definition does not control the actions of us, but black excellence has to start with me," Gousby's poem reinforced the theme of the night and served as a source of motivation for the students who attended.
Her spoken word was followed by beat boxing from Choppa. The Step Team then thrilled the audience with an amazing 15-minute step dance, and Ben P. and Syclone delivered an amazing performance of their single "No More."
BSU is a student-run organization at Suffolk University, which aims at improving and expanding interactions between students of African descent and those from other races and ethnicities through programs like the African Diaspora.
The organization also strives to put the culture of people of African descent in the limelight through programs like educational events where they usually have guest speakers, conferences, and community service activities.
The show ended with a performance by Choppa, followed by an after-party at the Mildred F. Sawyer Lounge where people had the chance to delight themselves in some Soul Food and enjoy music from DJ Charlie B.
Many attendees seemed pleased with the performances, as they exited the C. Walsh Theatre with smiles on their faces. Most students were happy with the theme of the night.
"The Black Student Union did a great job in making such a fun show," said Gousby, "and we need more events like these to have the entire Suffolk community integrate more because there are so many leaders and future world changers in this school, we have to support each other."
Leave a Comment