Former Ram on life after 'Big Brother'
Most college students don't know what it's like to be on TV.  Hayden Voss, former Suffolk student and reality show star from Big Brother, does.
In an  exclusive interview, Voss talked to the Journal about his time at Suffolk,  his stint on Big Brother, and his plans for the future.
"I really loved Suffolk, but school in general just wasn't really seeming like the thing I wanted to do," said Voss, 21. "I was getting good grades … I was an RA in the dorms as a freshman, I was doing really well, and there were other things that I wanted to pursue first."
He attended Suffolk for a year, after being recruited to play hockey for the Rams.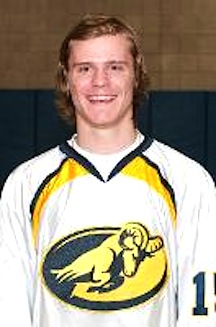 Voss described himself as a free spirit. While at Suffolk, he said he was undeclared, but was taking courses to fulfill a communications major with an emphasis in film studies. His Youtube channel, Teenage Child, shows videos he made in his dorm while at Suffolk.
Voss was born in Wisconsin, but moved around the midwest, living in Indiana, Ohio, Illinois, Michigan, California, and moving to Massachusetts by seventh grade. 
"My dad works in radio, and he's always kind of getting promoted to bigger markets," said Voss. Wherever the market was higher, Voss's dad followed the industry to move up in his career.
After a year at Suffolk, Voss decided to move to Los Angeles. While in California, he was cast on the reality show Big Brother season 16, which aired from June 25 until Sept. 24.
The concept of Big Brother allows for one of the 16 original house guests to be dramatically evicted each week.The winner gets a cash prize of $500,000.
"With that, comes people forming alliances, people working together, people clashing against each other," said Voss, who described the whole experience as "absolutely mind-blowing."
"Being in the house is insane, you're kind of just trapped in this house. You're completely cut off from the outside world. You have no phone and no TV, you can't talk to anyone besides those people in the house, you have nothing. You move to a different place, sit around and talk there, then move to another place in the house, sit around and talk there," he recalled. Cameras followed houseguests around day in and day out.
Before going on the show, Hayden said he worked at a bike shop, a vape shop, and a bookstore. He eventually started pedicabbing. Voss, who made it about halfway through the show, described how he was cast while working this gig.
"I was working on my pedicab one weekend in April and I picked up a casting producer for the show. I was at a three-day event and he tried to get me on Friday and I didn't see him, and on Sunday, he finally picked me up."
Voss said the producer saw him being goofy on the pedicab, with his eccentric look, which consists of long blonde hair, and often snapback hats and florals, and knew he had something unique to bring to the show.
While there, Voss said he got close to former housemate and current girlfriend Nicole Franzel, and had what people call a "showmance" with her.
Now that he has a fan base, he said that the support from fans is "super, super cool," and that he could have never guessed himself to have a following.
As far as his future professional plans go, Voss said, "Right now, I'm just kind of hanging out and seeing what the next step is. I've been talking to some agents and managers, and trying to get some acting gigs … I'm working on getting a website up, and it should be up within the next week or two."
Though college was not right for Voss, he encourages students to do what is best for them.
"Do what you want, just don't let other people or some sort of traditional route influence you into a route you don't want to do," Voss said.
Leave a Comment