Whether it's eating out, taking advantage of the university's dining services, or going grocery shopping for home-cooked meals, college students can sometimes spend big bucks to satisfy their appetites.
Ypay is the first ever, free-food event-finder app developed by Arctur Ltd. and Blue Arrow Ltd. of Slovenia, that helps students find the nearest free meals on campus, according to the a statement. Free of charge on Apple's app store, the app also lets the event organizers attract their target audience.
Users can spread the word about free food events that they see happening in their community by uploading the events onto the app.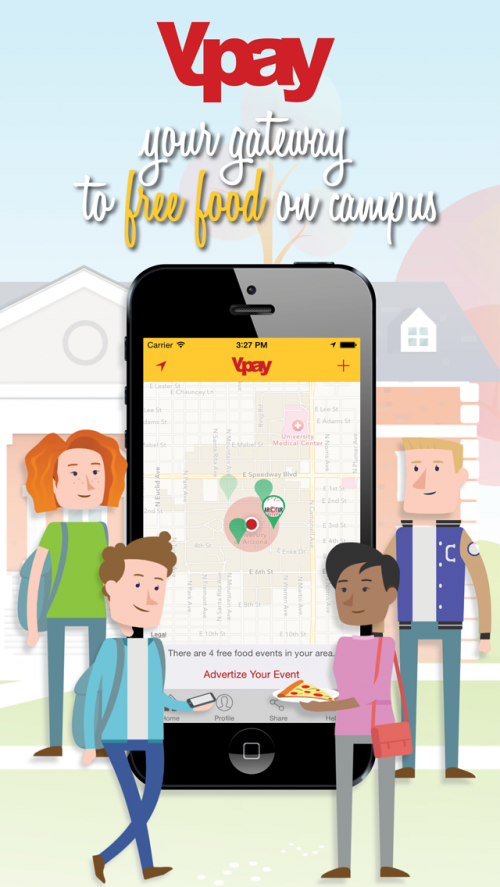 In the same statement, Arctur Ltd. and Blue Arrow Ltd., the companies that designed and built Ypay, said they like to think of themselves as the "Craigslist" for free-food events.
Maj Krumberger, a University of Arizona sophomore, had the idea of creating Ypay and suggested to a group of IT entrepreneurs from his home country of Slovenia to create it, and they did, the statement said.
"I've never heard of it, but I'm going to download it now. I think it's an awesome idea, considering the fact that everyone loves free food,"  said sophomore Cindy Nguyen. "I'm sure this app will be a college student's best friend. If it isn't, I don't know what it'll be."
With a carefully designed algorithm, Ypay sends users a push notification when they are close to a free food event. In the app, there is also an interactive map users can use to find where different events are.
According to Ypay's website, Event planners are also able to advertise their free food on the app for free, and can invite specific groups of students to their events. The Ypay system will notify a specific group, based on their sex, year, and major, and will even make a priority list for those specific students to make sure they get their food first. Event planners will also be able to monitor the number of people who plan to attend so they can adjust how much food they give away, or know if they have to order more.
Once the app is downloaded, users will go through a short registration to allow Ypay to send push notifications. This will enable the app to notify the user about events in his or her area. By completing registration, users will even be able to sometimes cut in the proverbial line to reserve their free food. Students can also help other students get free food by sharing certain events with the entire Ypay community.
When asked about the importance of finding cheap food, Suffolk students weighed in on how they felt about finding quality food for less in the city.
"I think that the idea is so cool," said sophomore Trisha Guzman. "Attending the event will depend on what the app shows me, though. I'd most likely go to company-held free food events or school ones," she said, rather than going to unknown companies advertising free food.
Junior Ivan Lanz shared his thoughts, too.
"I would definitely use it," said Lanz. "I spend about $150 per week on food and when you live in a city like Boston, sometimes it's hard to find quality food for a good price. I definitely find myself spending more than I want to on food so this will be a great thing to take advantage of."
For more information on Ypay, visit the website www.ypayapp.com.