Iliana Quadri keeps Lady Rams fast
By Ian Kea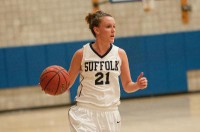 Ranked third by the head coaches in the 2014-15 GNAC Women's Basketball Preseason Poll, the Lady Rams basketball squad has much to be confident about going into the season, especially after defeating Yeshiva University in their first exhibition game of the season Saturday by 47 points.
Sudbury native Iliana Quadri, a marketing major and public relations minor, sees confidence as the first step to team success but more must be done after losing to Saint Joseph's College of Maine in last season's GNAC quarterfinals.
"We need to go into every game with the same intensity and want to win no matter who we are playing," said Quadri, the senior guard. "We need to play every game like it's our last."
After shooting lights out behind the arc, Quadri positioned herself as a top five 3-point percentage shooter in the conference, which contributed to the Lady Rams winning season last year as well as her third team conference honors ranking.
Quadri has no special technique to her triple point success, just a confident mindset.
"Confidence is huge and my teammates as well, they believe in me and get me the ball in good situations, they set me up to get good shots," said Quadri.
Quadri currently is second all-time in program history, shooting at a 38.1 percent clip from beyond the arc.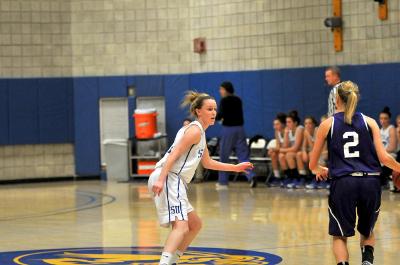 Standing at 5-foot-10, as a guard and surrounded with staunch competition, in the GNAC conference Quadri sees her undersized squad playing to their swift, athletic advantages.
"I think we can do really well, we are a small fast team and we all work hard and want to win," she said.
Quadri has been a consistent force for the Lady Rams as she earned rookie of the year honors in 2011-12 season as well as defensive women's player of the year in the 2012-13 season.
Quadri plays alongside sister Alex Quadri, an accounting major as well as well as fellow guard on the court.
Although only one game into the 2014-15 regular season, Quadri has shown herself as a leader once again, ranking as a top 10 scoring player in the league as well as a top 25 rebounder and 3-point shooter.
Entering her final season, Quadri reflects on her now numbered days as a Suffolk University student athlete and sees this team as one to close out her final season a champion.
"There are too many good memories throughout my time here at Suffolk," said Quadri. "I hope and see us going far this year. I think this team has the ability to make it farther than we have been."
Leave a Comment