Walk around downtown Boston and you will find that the streets are remarkably clean and free of litter.
Every day, Boston Improvement District ambassadors can be found performing various beautification services around Suffolk's campus, covering an area that stretches from Beacon Hill towards the Theater District and beyond.
Informally known as Downtown Ambassadors, their duties range from sweeping sidewalks and removing weeds to connecting homeless people to services, according to their website, downtownboston.org.
Helping the ambassadors keep the area's streets and sidewalks clean are the many enclosed garbage receptacles, found on almost every sidewalk downtown. Perhaps most importantly, they welcome pedestrians and tourists and help them find their way around the city. Last week, I walked past an ambassador stationed outside the Macy's in Downtown Crossing, next to a cart full of information on the city.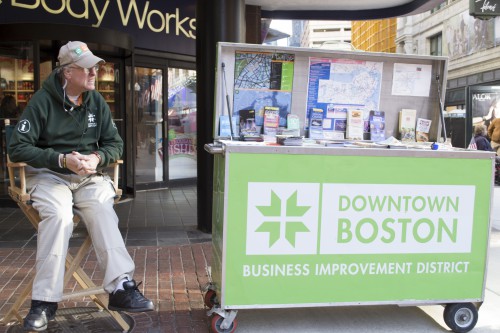 Such services give downtown Boston a safe, inviting atmosphere. When I lived in 10 West last year, I appreciated the ambassadors' presence. They were a constant reminder that the city I had just moved to invested in its services to make it a safe, clean, and hospitable place to live.
Early on Wednesday mornings, when I would walk from the Donahue Building across campus to my dorm, hardly any litter fluttered down the windy streets that cut through Suffolk's campus. Even though the city can be dangerous at night, I felt safe walking home. Even at 2 a.m., they felt almost inviting.
This year, I live off campus in East Boston. The neighborhood is safe enough, and I have never felt unsafe walking home late at night. But Eastie's streets lack the upkeep and safeness found in downtown.
Unlike downtown, the area is much more residential than commercial, so it makes sense that the ambassadors don't work over there. But that's not to say the area couldn't use some extra upkeep.
Much of Eastie is often littered with trash. Much of it is likely swept out of the uncovered, rusty garbage cans on the street corners. Each one seems to lean a different way.
Early Sunday morning, I stood with a crowd of my neighbors as Boston firefighters extinguished a small fire down the street from my house. As they disconnected their hoses from the hydrants, the discharged water carried bottles, cans, chip bags, and candy wrappers down the street and towards the drain. Cigarette butts streamed towards the sewer drains.
Contrary to downtown, the network of narrow roads in East Boston feel dirty and unwelcoming.
Boston should invest in making all of its neighborhoods welcoming and clean by sending ambassadors into other parts of the city.
Eastie doesn't need to be kept as relatively neat and polished as downtown. But regularly sending a team of ambassadors into the neighborhood, and others like it around Boston, would give the areas the safer, cleaner feel that residents deserve.