Thousands of college students called Boston home during former mayor Tom Menino's 20-year tenure. Whether they realized it or not, Menino's mayoralty shaped their time in the city.
When Suffolk University opened its 10 West and Modern Theater dormitories, which included the tedious restoration of Modern Theater's facade, Menino supported the area's revival, according to BostInno.
"His commitment to thoughtful and sustainable development that benefits the surrounding community has led to the revitalization of Tremont and lower Washington street," former president James McCarthy told BostInno. "As a result of his vision, we find ourselves surrounded by rejuvenated theaters, thriving restaurants, new residences and academic buildings that attract students and so many others to this great city."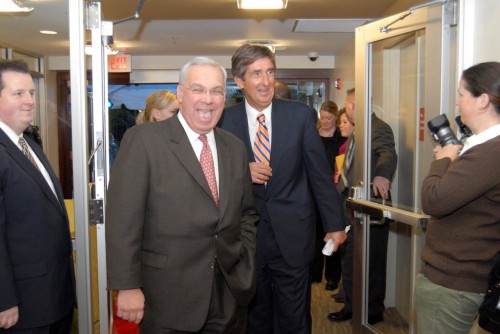 Menino also supported Emerson College when they moved their campus to its current spot by the Boston Common, BostInno said. The block Emerson now occupies was previously underutilized, dotted with adult bookstores and other nefarious businesses.
Students and recent graduates in the city also owe a debt to Menino for his broader initiatives to improve the city as a whole.
Graduates hoping to teach in the city can thank Menino for improving the public school system and increasing graduation rates. As many columnists noted in The Boston Globe's coverage of his death, Menino told Bostonians: "judge me harshly" on education.
Higher graduation rates from the city's high schools also means that more students are engaged, and are taking their education more seriously. More graduates also mean more potential college students.
By reducing crime and gang violence, Menino also made the city safer for students from out of town who are not used to the area. Despite some violent years, homicides dropped from a total of 98 his first year in office to just 40 last year, according to the Globe.
He set up an innovative program that paired the city's youth with summer jobs to keep them off the street and employed.
For Boston's thriving community of entrepreneurs, the Innovation District on the South Boston waterfront offers plenty of opportunities to start or join a new business venture. According to its website, the Innovation District has already added 5,000 jobs in a wide range of fields, with the potential for 4,000 additional jobs.
The Innovation District is just one of many redevelopments the former mayor supported and helped guide to fruition, according to the Boston Globe. Other major developments he backed include the New Balance building in Brighton and the revitalization of Dudley Square in Roxbury. Such developments will require thousands of jobs from the planning phase to the ribbon cutting ceremony, and will add new opportunities to an already strong economy in the city.
More than many college students realize, Menino's leadership as mayor greatly shaped their time in Boston, and the opportunities available to them. We owe a great debt to him for his leadership and initiatives that have made Boston an even better place to work and live.