Paleologos talks next week's election
Alumni, students, and faculty streamed into the Suffolk Law School function room early Friday morning for the Joe Moakley Forum, part of Suffolk's Homecoming activities.
The crowd grabbed breakfast and much-needed coffee and mingled as they waited. At one table, an undergrad chatted with a law school alum.
Each had come to Suffolk, they discovered, because it was a cheaper option, close to home. Like the student she had just met, the alumna had taken mostly night classes and worked her way through college.
After waiting for stragglers, who event organizers said may have been ensnared due to slow traffic or a hiccup in the Red Line's service that morning, David Paleologos took the stand to discuss local races ahead of the upcoming elections.
Paleologos, who heads Suffolk's Political Research Center, began by explaining the center to alumni and students.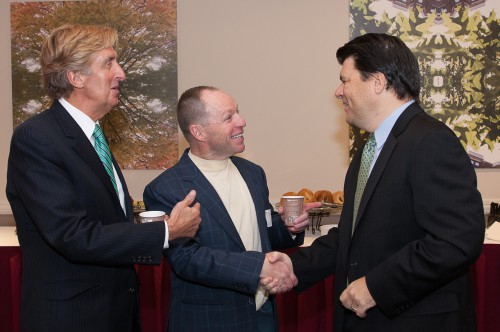 "We're the new kid on the block," he said of SUPRC. It is one of the newer centers at Suffolk, despite being around since 2002, and is currently USA TODAY's polling partner for elections nationwide.
That's impressive, he said, because the newspaper's previous partners included polling heavyweights Gallup and the Pew Research Center. Given the center's success and Suffolk's high international student population, Paleologos hopes to start polling in other countries, he said.
But his audience had come primarily to learn what recent polls indicate for statewide races and ballot questions. Paleologos focused Massachusetts' gubernatorial and New Hampshire's senate races.
Fittingly, that morning's Boston Globe reported that Republican Gubernatorial candidate Charlie Baker had gained a nine-point lead on his Democratic opponent Martha Coakley, as Paleologos informed them.
Suffolk's latest Massachusetts election poll put Coakley only one point ahead of Baker, at 44 percent. Paleologos said the same poll found Coakley leading Baker by only one point in favorability ratings too, at 46 percent.
The bigger gap is in their unfavorable ratings, he said. While 42 percent of respondents were generally unfavorable of Coakley, only 27 percent felt the same way about Baker. Four attorneys generals who ran for governor in Massachusetts in recent elections were all defeated, the pollster noted.
Massachusetts' growing number of Independents will play a big role in the election, Paleologos said. In 1990, registered Independent and Democrats were almost even at 44 percent and 43 percent. In 2014, however, Independents make up 54 percent of voters in the Bay State, while Democrats have shrunk to 35 percent.
Thus, Baker will have to woo more than 17 percent of Democrats, Paleologos said, and Coakley has to beat him on Independents by no less than 22 points.
Independents carried Republican Scott Brown to the Senate in 2010, after beating Coakley in a race many assumed she would sail through.
Brown is currently fighting an uphill battle in New Hampshire for incumbent Democrat Jeanne Shaheen's Senate seat. Shaheen still leads Brown in favorability, but like Coakley's rating, hers is starting to slide. At 49 percent, she is only 10 points ahead of Brown, whose favorability in the state has been rising, Paleologos said.
In New Hampshire, incumbent Gov. Maggie Hassan still leads her Republican opponent Walt Havenstein in the gubernatorial race.
"Havenstein is riding an anti-Democrat, anti-D.C. wave," Paleologos said. "I think it's Hassan's race … but she now only has a 10 percent lead," down from the big lead she had held for most of the race.
Back in Massachusetts, the poll found a majority of Massachusetts voters were inclined to vote against the first three questions on the ballot, but would vote for the fourth. In the attorney general race, Democrat Maura Healey was far ahead of Republican challenger John Miller.
"I could see a 'Governor Maura Healey' someday," he said, commenting on her popularity.
After discussing facts and figures, Paleologos closed by talking about SUPRC's "incredible rollercoaster ride" at Suffolk.
Leave a Comment
About the Contributor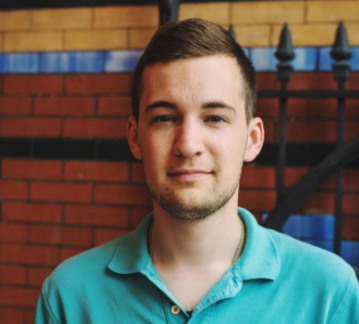 Sam Humphrey, Newsroom Manager
From starting as a staff writer to helping edit and manage the entire paper, Sam has seen every side of the Journal there is. He covered protests, changes in the school's administration, and local political events on Suffolk's campus and across the city. He graduated from the Sawyer Business School in May 2017 but his favorite memories of Suffolk are from his four years on the paper.