Women's tennis looking more comfortable
The Suffolk University women's tennis team is looking to avenge their recent loss against Springfield last Thursday with their upcoming games this week, Mount Ida and Anna Maria, on Wednesday and Saturday, respectively.
Their loss broke a four-game win streak and  came after having played three matches in a row.
"We were aware it was going to be a tough match but we were pretty pumped because we were on a four match winning streak," said Rebecca Eshoo, a junior broadcast journalism major.
Playing three straight games for the first time proved to be a problem for the Lady Rams as they were unaware of what to expect, not just from their opponents, but also from themselves.
"[Not] having enough stamina because we've never done three matches in a row before, we would usually have a day off in between and having enough energy and physical strength to keep going," said Eshoo, "but the match we played on Wednesday wasn't really tough so that was kind of like our day off but we still played our best, obviously."
Eshoo had to play a doubles match, which lasted about an hour and a half, she said. The match had to reach a tiebreaker which Eshoo and her partner won. However, Eshoo also played her singles match afterwards but she lost and lost. This is usually common for the athletes as pairing different players in doubles matches is not an easy task.
"For doubles it's kind of hard to switch up the teams just because it's hard for people to play with other people that they've never played with before," said Eshoo, "we typically keep the doubles teams the same just because it's hard to come up with different doubles pairings in a short amount of time."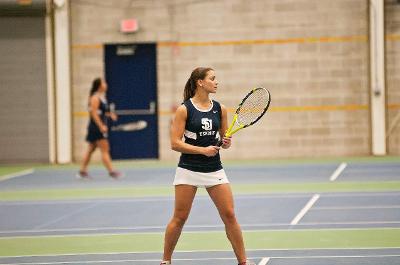 Eshoo is confident that her team can win the games against Mount Ida and Anna Maria as they have beaten them before. She thinks that some of the players who normally don't get to play will receive the opportunity to do so in these games.
"There's people on our team that don't typically play singles and so we usually try to give people a chance to play when we know that we're playing an opponent that isn't typically better than us," said Eshoo.
The team will also be playing Johnson & Wales, which Eshoo considers as their biggest rival, on Monday. Johnson & Wales is responsible for eliminating the Lady Rams from the GNAC playoffs in the semi-finals, but Eshoo thinks past games have also served as a way to prepare for a team like Johnson & Wales.
"We don't really have a lot of downtime between matches so we just try to put in our best people in the lineup so that they can get a lot of practice in their matches for our upcoming matches that are tough," said Eshoo.
"I think this year we have an advantage of playing them later rather than earlier in the season because we've already have experience with tough matches that we ended up winning so I think that we know strategy on how to pull out a win against tough people."
Leave a Comment