"Let's talk about food" festival takes over Copley
By Aiyana Edmund
Whether a self-proclaimed foodie, an avid home cook, an all-organic ingesting human, or simply a curious wanderer who stumbled across the event, all walks of life united at Copley square last weekend to share a love for one simple thing: food.
Among the live cooking demos and discussions on the importance of healthy and local eating, free samples of treats ranging from chipotle flavored salsa, to McIntosh apples to whole grain chips with hummus attracted people to the outdoor event, 'Let's Talk About Food' on Friday and Saturday.
If it's one thing the revelers all held in common, it was their love, need and interest in food. The event laid a plateau of proof that eating healthy is not only vitally important, but can indeed be simple and inexpensive. As a city predominantly populated with college students (typically short on funds) the festival was received incredibly well, and not just because there was free food.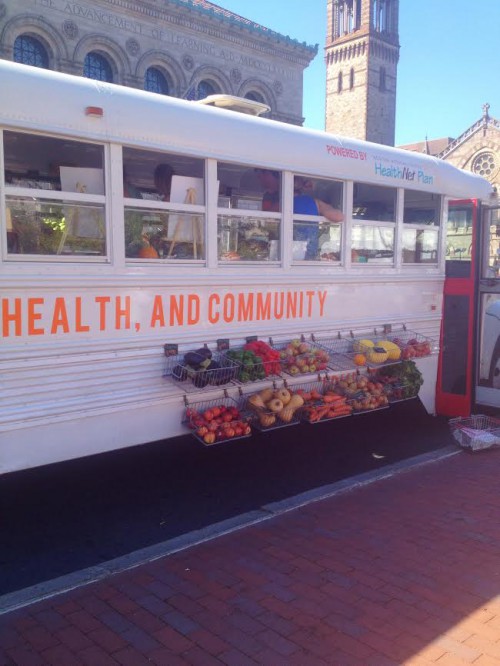 A retrofitted school bus, The Fresh Truck, stationed on the edge of the square swooned people onto the mobile fresh-market bus that was gutted of its seats and replaced with bins, chock full of vegetables and fruits. Tented vendors such as Revolution Foods, an organization that provides healthy meals for schools and families, stole the hearts of passerby's with their quaint Chinese takeout boxes of salad served with chopsticks. Nearby, happy hands dug eagerly into bags of rich, dark soil in front of the Project Bread booth, an organization working towards ending hunger, where basil seeds were planted in plastic red cups to take home.
On Saturday, after Chef Joe Gatto kneaded and tossed pizza dough into the afternoon air, the chef and sustainable seafood advocate Barton Seaver joined Seafood Distributor Michael Dimin and Chef Jeremy Sewall for a discussion on selecting seafood, the importance of sustainable seafood, and how to best cook your sea dwelling delights at home.
Ryan Flood, of Brighton, Mass., snapped photos of a chalkboard propped on the sidewalk, bright orange chalked words "Lettuce turnip the beet" cleverly etched onto the slate.
"This is cool," Flood commented. "Sure, the free samples are what got and kept me here, but then I accidentally learned stuff along the way."
A demonstration on understanding the difference between local and grass fed meats, choosing the right cut, and cooking was hosted by Chef Michael Leviton of restaurants Area Four and Lumiere and Chef Louis DiBiccari of Tavern Road. Knowing where to be when shopping for meat and what to look for in the health of the animals is a growing topic of importance that the chefs hashed out at the "Local, Locale or Less?" demo on Saturday.
Mike Duley, a college student and resident of Brookline, Mass., stood with a half eaten apple in one hand and a Green Machine Naked juice in the other.
"Eating well and understanding where the stuff you are eating is coming from is so important," he said.
He admitted that being a student means he is crunched of time and funds to eat as healthy as he wished he could.
"Being here shows me that it doesn't have to be expensive to eat well," Duley added.