Rondo's injury hurts his leadership capability
Rajon Rondo was stuck on the sidelines for the first half of the 2013-14 season after a devastating ACL tear. The veteran point guard returned for only 30 games, and although productive, did not make a large enough impact to help the Celtics win games.
Rondo will miss even more precious time now, after breaking a finger on his left hand while falling in the shower, according to The Boston Globe's Baxter Holmes.
Rondo's career as a Celtic is in question even more since this injury will cost him up to two months of playing time.
Oct. 29 is the first regular season game of the year versus the Brooklyn Nets, and it is now apparent that the Celtics will be without their leader for the regular season opener once again.
Celtics fans and the press are all questioning the future of Rondo in green.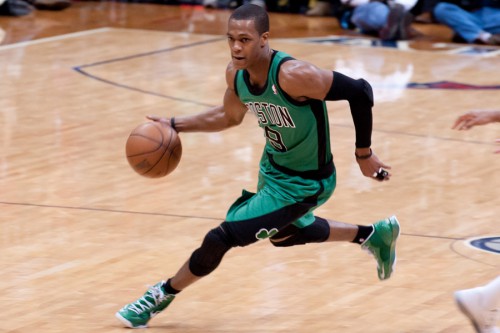 Rondo has said repeatedly to the press that he wants to be in Boston, and General Manager Danny Ainge has made it clear that No. 9 is part of his plans.
On media day, Rondo made sure he addressed his rumored departure after his contract ended, and according to The Boston Globe, Rondo said: "The fans, the people here make me want to stay."
He also made it clear to the media that he does believe he is a maximum contract player, which is foreshadowing that if the Celtics don't offer him a max-offer, he might be heading out the door.
The Celtics had a difficult time signing anyone because the lack of salary cap space they have, so offering a maximum contract could put the Celtics in an even larger hole.
In the two years before the 2013-14 season, Rondo led the league in assists. In 2010, he was only off by 0.2 assists from beating out Steve Nash. Although he is not a elite scorer, he still offers his career average of 11.1 points per game.
As a shooter, Rondo is no Nash, but he can get the Celtics buckets.
The largest concern for the Celtics is if Rondo can be the face of the franchise and attract big time free agents.
After this offseason, it is apparent that Rondo is not enough to attract any free agents that will be game changers. Former first round pick Evan Turner was the only new player signed by the Celtics in free agency.
Rondo has proven he is a solid starting point guard in the NBA, but whether or not he is the answer for the Celtics rebuilding process is still in question.
Leave a Comment