Suffolk's top 10
Top officials at Suffolk University, including members of the administration and two law professors, are receiving large paychecks, but their salaries are less than that of officials at other area universities.
To its 10 highest paid officials, Suffolk is shelling out a grand total of $3,434,909 in base compensation plus benefits and retirement. However, that is one of the lower totals among area colleges and universities.
These numbers represent the 2012 calendar year and were filed in public documents for the 2012 to 2013 fiscal year. This is the most recent data available.
The highest paid persons at the university during that time, based on total compensation, were former president James McCarthy, Camille Nelson, dean of the law school, William O'Neill, dean of the Sawyer Business School, Kenneth Greenberg, dean of the College of Arts and Sciences, Janice Griffith, a Law School professor, John Nucci, vice president of government relations and community affairs, Barry Brown, former provost and acting president, Danielle Manning, senior vice president for finance and administration and treasurer, Michael Benham, associate dean and dean of graduate programs and academic affairs, and Alasdair Roberts, a law school professor.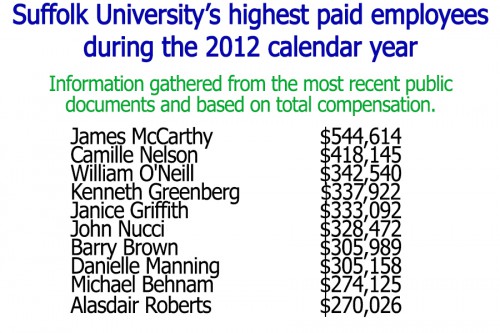 McCarthy made a base compensation of $435,620 and was paid $108,994 in other compensation, retirement, and nontaxable benefits. The former president abruptly left the university at the end of August, just days before the beginning of the current academic year.
McCarthy's successor, Norman Smith, said in a previous interview with the Journal that he is paid through the Registry of College Presidents, and that he is collecting a sum "far below anything that was ever paid here in the past."
Suffolk University has a philosophy on compensation which states "The Board of Trustees is committed to ensuring that compensation agreements with senior executives are reasonable and consistent with universities of similar size and characteristics, and reflect the University's mission and values. The University's philosophy is that executive compensation should be reflective of Suffolk's standing and reputation as a leading academic institution.  Compensation should be competitive with similarly situated institutions, with the goal of attracting and retaining the personnel talent to achieve the University's mission."
According to public records, other universities in the area are paying their presidents somewhere in the range of $800,000 to $1 million.
Though, some presidents were paid about the same as McCarthy, including Endicott College's Richard E. Wylie, who brought in a total sum of $580,202, according to public records. Similarly, the president of all five University of Massachusetts schools, Robert L. Caret, was paid $653,473. He is not the highest paid official at UMass.
Emerson College pays its 10 highest officials a total sum of $3,227,226, which is slightly less than Suffolk University. Emerson's president M. Lee Pelton was paid a total of $817,175 during the same time period as McCarthy's lesser compensation.
Most other institutions in the area are paying their top officials more than Suffolk and Emerson. Babson College paid more than $4 million to its top 10; Tufts University and the University of Massachusetts more than $5 million; Brandeis University, Northeastern University and Boston College more than $6 million; Massachusetts Institute of Technology more than $7 million; and Boston University paid its top 10 more than $9 million.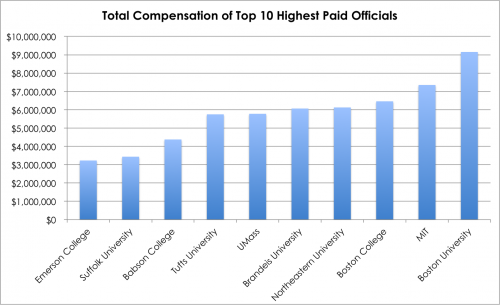 Data for the calendar year 2012 was not immediately available for Harvard University, but for the 2011 calendar year, the Ivy League paid its top 10 officials more than $6 million.
Boston College's president is not listed under its highest paid employees. In fact, outlets including Boston.com and The Boston Business Journal have reported its president Rev. William P. Leahy is paid nothing by the college. According to public records for BC, its top paid official is the football coach, Frank J. Spaziani, who earned more than $1 million.
At schools like Northeastern, MIT, Harvard, and BU, some professors are making base salaries upwards of $500,000 or $600,000, before other compensation is added.
That is higher than at Suffolk, where the two law professors in the top 10 were paid no more than $265,907 in base salary, numbers comparable with that of Emerson and Babson.
The Journal reached out to Suffolk's highest paid employees. Everyone declined to comment except Alasdair Roberts.
"Please note that the data was accurate at the time at which the relevant document was filed," Roberts said via e-mail. "You'll recall that the Rappaport Chair in Law and Public Policy was terminated by the university earlier this summer."
The Rappaport Center was shut down by Suffolk in mid-August. Roberts was the center's endowed chair in law and public policy. The cost of that position, however, was offset by the gift the center gave to the university.
McCarthy stepped in as president in 2012, so Brown's compensation was for his position as provost through June 2012, as well as a stipend for his time as acting president in Jan. 2012, according to Greg Gatlin, a spokesman for the university.
The public document also shows that David Sargent, Suffolk's longest serving president, was still being  paid money by the university during 2012, after his leave in 2010. Near the end of his tenure, Sargent was paid a large salary, which some outlets including The Boston Globe reported was up to $2.8 million.
Sargent had no base compensation in 2012, but did collect $182,341, according to the document. That money was severance, part of an agreement made between Sargent and the university, according to Gatlin.
Correction: An earlier version of this story did not have the correct title for Alasdiar Roberts. He was the endowed chair in law and public policy.
Leave a Comment