Suffolk student goes far with Bottom Line
"Get in, graduate, go far." To students seeking guidance during the hectic process of applying to college, the slogan of Bottom Line ensures them that it is possible.
When Phyliss St-Hubert first heard about Bottom Line in the winter of last year, she applied within the following days. The oldest of three siblings, St-Hubert is the first member of her family to pursue a bachelor's degree.
Bottom Line has its students apply to their target schools, which are mostly colleges and universities in and around the Boston area. These include all UMass schools, Worcester State University, Boston College, Boston University, Northeastern University, and Suffolk University.
St-Hubert decided to apply to Suffolk University, and is now a freshman, class of 2018. Although Suffolk might not have always been her first choice, she couldn't be happier with her decision. During a phone interview last Thursday, St-Hubert explained her experience.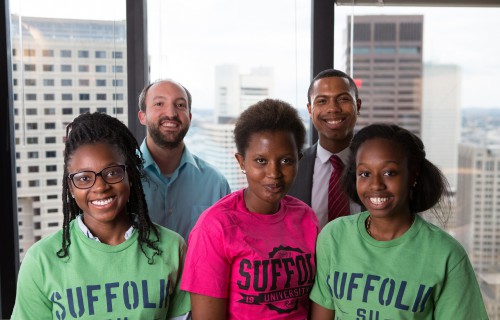 "My dream was to go to Washington D.C., but it was too expensive, and I liked [Boston] better," she said. "I love the diversity, and most schools aren't like that."
Bottom Line is a privately funded, nonprofit organization that thrives in aiding low-income, first generation, at-risk urban youth in the Boston area to attend and graduate college. Its counselors are dedicated to aiding students throughout both the application process and the transition to college.
When a high school junior or senior is interested in receiving help from Bottom Line, there is an online application on the organization's web site. Once the student is accepted, the first step of the organization's process, called College Access, begins. A counselor helps the student one-on-one with the application process, writing essays, and searching for scholarships. The experience can be extremely daunting for a student who might be the first in their family to attend college. Bottom Line takes the fear out and replaces it with inspiration, according to officials.
The second part of Bottom Line's process is called College Success, which provides guidance during the transition time, class registration, and also providing workshops at their location in Jamaica Plain.  St-Hubert, while sounding enthusiastic about the help she was getting, said, "There is actually a meeting next week to see how we're adjusting. I talk to my own counselor, who sees how my classes are going."
Bottom Line also helps students with financial concerns, registration questions, and even staying focused during school.
St-Hubert is living on campus this year in the Modern Theatre dormitories.
"It's good, I don't have my mom nagging me," she said with a laugh. "There is always something to do." When thinking of some clubs she might join, she is considering the Residence Hall Association, Student Government Association, Black Student Union, and the Program Council, while she mentions she likes event planning.
Her favorite class is a public speaking class, which assigned a presentation on the first day.
Academically speaking, St-Hubert took an interest in government in high school. At Suffolk, she is currently majoring in political science, and is considering pursuing a law degree. When asked if she would attend Suffolk Law School, she remained open and optimistic. "Maybe Suffolk, or maybe somewhere else."
According to a statement from Elevate Communications, Bottom Line's annual send-off of over 200 students was held on Aug. 13 at Hill Holiday, a marketing agency in downtown Boston. Hill Holiday has long been a partner with Bottom Line, and provides students with the opportunity for paid summer internships, and possibly full-time positions.
Bottom Line stresses that secondary education is essential for the growth and prosperity of individuals. According to their website, while only nine percent of the lowest income students earn a college degree by age 24, students who are enrolled in Bottom Line are twice as likely to graduate compared to their low-income peers.
In simple terms, Bottom Line has become a saving grace to low-income urban youths. If St-Hubert never applied to Bottom Line, she hesitantly explained, "I'm not really sure where I would be. I might still be at Suffolk, but I would be more nervous about it." She expressed her gratitude towards her counselor and said, "I like having someone there who understands the process, and if they don't know the answer to a question, they will always find someone for me to talk to."
Bottom Line currently has locations helping students in Boston, Chicago, Worcester, and New York.
Leave a Comment