Suffolk Commencement 2014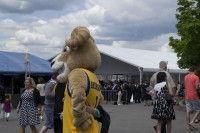 The weather was in the 60s on this sunny day when a host of graduates and their parents, amongst volunteers and coordinators, celebrated the achievements of undergraduate and graduate students alike on Sunday, May 18. 
Suffolk University Law School held its commencement on Saturday, May 17 at 1 p.m. at the Citi Performing Arts – Wang Center.
There was some trepidation on behalf of students and faculty over the controversy surrounding keynote speaker  Abraham Foxman, national director of the Anti-Defamation League (ADL), and his comments made on the Armenian Genocide. A petition was started on Change.org by the National Lawyers Guild (NLG), a public-interested association made up of lawyers, law students, paralegals, and other related professions. In a letter to Suffolk University President James McCarthy,the NLG claimed, "To have him speak and then to bestow an honorary Juris Doctor to him when he blatantly supports human rights for only a narrowly defined category, and discriminates against others, compounds insult to injury." The latent protest gave way to articles published by The Boston Globe.
Foxman addressed the issue in his speech, which contained themes such as freedom and morality, by saying, "The notion that individual courage and individual responsibility was central to combating evil was a central part of my philosophy and that of the ADL. Had there been people of courage to act in 1915 when the Armenian genocide was taking place, had there been international intervention when massacres in Cambodia, Bosnia, and the genocide in Rwanda were happening, innocent lives in great numbers could have been saved," according to a statement from Suffolk University. 
The Sawyer Business School and College of Arts and Sciences held their separate commencements at the Blue Hills Bank Pavilion. On Sunday, guests filled the 5,000 seat amphitheater, and took their places to see the graduates and commencement speakers.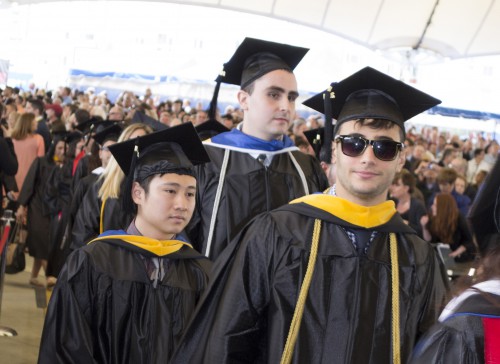 Commencement speakers for Sawyer Business School and College of Arts and Sciences both gave humorous, insightful, and thought-provoking speeches. SBS speaker and CEO of State Street, Joseph Hooley, discussed the digital revolution.  He mentioned the digital revolution as disrupting every single industry – but not for the worst.
"Companies that once seemed to have invincible market leadership positions are being threatened by competitors that just a few years ago weren't even on their radar screens." He noted that iTunes, Google and Netflix have "disruptive business models," business models which every company, employee, and student should be focusing on. He urged students and workers to contribute to the "disruptive and creative business environment." He also encouraged folks to not be consumed by data and to take time to enhance their personal relationships, which cannot be replaced with technology.
Likewise, President and CEO of Boston Medical Center, Kate Walsh, encouraged students to "be the person who arranges birthday dinners and pickup basketball games. Show up, help clean up, look up and smile." She also added, "Your life is not your phone screen," and was met with a round of applause and cheering from the audience.
Walsh also cited having an imagination as being important to improving the environment as your job. She credited Suffolk students and faculty as having an overall practical, multidisciplinary and entrepreneurial spirit.
Class greetings were made by Tara Sedlak and Rachel Mosesso for the Sawyer Business School and Reycine Thomas of the College of Arts and Sciences. All of the students shared stories on their path to graduation. Thomas, whose speech centered around breaking out of ones comfort zone, stepped out of her own comfort zone by step-dancing on stage.
The marketing and communications office put together touching testimonials made by Suffolk students of diverse backgrounds thanking those who have helped them graduate. In most cases, it was their parents.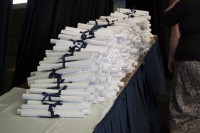 The late Sam G. Berns was awarded a posthumous honorary Doctor of Humane Letters degree for his courage in battling progeria, a rare genetic disorder that made him age prematurely. He was a junior at Foxborough High School at the time of his death, and was the subject of the HBO film, "Life According to Sam." His mother and father were present to accept his award.
The overall theme of the day was benevolence, and through commencement speakers, graduates, family, friends and more, that was evident.
Leave a Comment