Coach Jaclyn Davis looking to change softball culture
Jaclyn Davis is less than two years into her time as Suffolk University softball coach but she has already noticed a change in the program. While the Lady Rams are currently fighting to improve upon their 4-10 conference record, they are also working hard on team building.
"I think [this season] has been successful in a lot of ways that you can't understand by reading a score," Davis said. "The culture here has changed in a much more positive way. We're building a team that has quickly become a family."
In Davis' first year as head coach, the Lady Rams made their first appearance in the Great Northeast Athletic Conference championship game since 2006. Before taking over the reins last season, she was an assistant coach with the Lady Rams during the 2008 and 2009 seasons.
With six freshmen suiting up this season, seniors and team captains Nikki Cignarella and Erin McAndrews have played big roles in bringing the team together.
"Erin is a great leader on the field and off the field. If I could have Erin for my entire career I wouldn't be mad about it," Davis said with a laugh.
McAndrews and Cignarella are among the team's top three hitters, with averages of .495 and .289 respectively. McAndrews currently leads the team in hits, doubles, homeruns and RBIs.
Two freshmen that have done their best to follow the lead of their captains are Anna Grace Maggs and Emily Martel.
"They have played just about every game in the outfield for us. They both have grown immensely working with our assistant Lauren McCart," Davis said.
"Emily, for her size, hits for some power. She can also slap and bunt. Anna Grace hits for power. She's a freshman that hits in the four hole spot for us."
Despite the efforts of some of the team's leaders and newcomers, the Lady Rams find themselves with a tall order to make this year's GNAC playoffs. The team currently sits at No. 10 in the conference.
Regardless of how this year turns our though, coach Davis said that she will be proud of her team.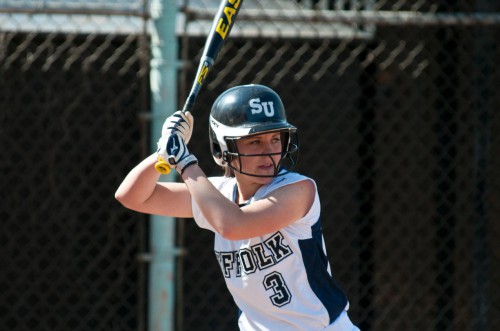 "This season, I want success for them so much. It doesn't have anything to do with me and everything to do with them. I'm so proud of all the work they've put in and ready for it all to click and break open. I think they can play with and against any team in our conference," Davis stated.
The head coach is looking forward to recruiting more young talent and bringing in more players to the program.
"I am aware the softball roster has been pretty limited [in years past]. We're not very big right now but we are absolutely bigger. I think that we'll continue to grow," said Davis.
"The unfortunate part is that at some point they all have to graduate," Davis said. "We do have a pretty good class coming in as soon. As this season wraps up, we'll just start moving forward into the next one."
The Lady Rams have just six games left this season, all of which are double-headers against conference rivals Anna Maria, Emmanuel and Albertus Magnus.