Panel reflects, enlightens on Joe Moakley's legacy
From his work helping preserve historical buildings and Dorchester Heights, to his hand in City Hall's current location, late Congressman Joe Moakley, who lived his entire life in South Boston, was in the room during many discussions that helped shape Boston.
"He viewed his legacy as helping the people of this city," said Congressman Jim McGovern at last week's panel discussing Moakley's legacy of transforming Boston, held at Suffolk University Law School. "People come from all over the state, the country and the world to visit Boston and are amazed at the history and culture of this city. Joe had a role in all of that."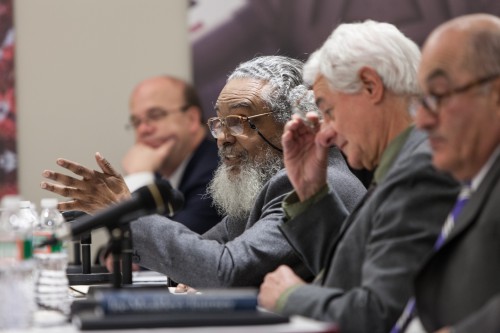 Moakley served Massachusetts 42 years as both a state representative and Congressman, respectively. He died from leukemia in 2001.
McGovern was joined by Massachusetts Representative Byron Rushing, Boston Harbor Association President Vivien Li and Moakley biographer Mark R. Schneider on the panel. Each discussed their own friendship and interactions with the Suffolk Law alum over his years in politics and his influence on the Hub.
"It's hard for people that have come to Boston in the past 10 to 20 years to see it, but Boston almost didn't have any 19th century buildings," Rushing said. "Joe knew that coming to Boston as an old city was something people would like to do."
Rushing explained that it was through Moakley and others' efforts that the city cleaned places like Faneuil Hall and the old combat zone, which is present day Downtown Crossing. Moakley and Rushing also worked together to help several buildings with black historical ties become part of the country's national historic landmarks, including the African Meeting House.
"When he got in positions to make decisions, he widely supported historic preservation," Rushing said.
Much like Rushing, Li remembered Moakley fondly, as the two worked together starting in the early 1970s to turn the Boston Harbor Islands from a "dumping ground," as Li called it, to a premier destination.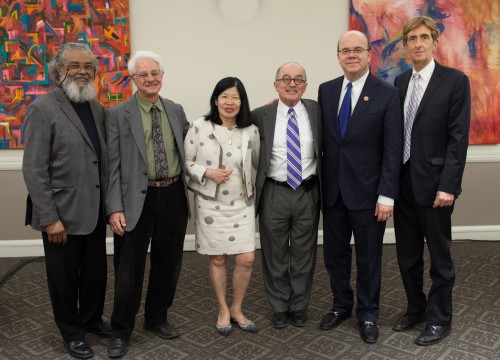 "Knowing how to work with independent groups was one of his biggest traits," Li said.
When it came time for Congressman McGovern to reflect on Moakley's legacy, he talked of his former boss' work for Boston but also more than a few candid conversations between the two. McGovern served as a senior staff member for Moakley from 1981 to 1996.
"He wanted smart development, historic preservation and most of all he wanted to put people to work," McGovern said. "There is not a bridge or road that doesn't have his fingerprints on it … I wish he stayed around a bit longer to see what he envisioned actually happened."
McGovern also shared a private conversation with Moakley just after the former Congressman was told that he had only three months to live.
"I asked Joe if there was anything I could do for him or if there was anything he wanted done. After initially declining needing anything, he looked at me and said 'actually, I'd like that courthouse named after me. You better get to it before they give it to one of the Kennedys.'"
Even 13 years after his passing, Moakley's legacy can still be seen all over the city that he was born and raised in.