Suffolk ISSO hosts alumni panel to advise, inspire students
The challenges of the international student do not end at graduation. Although school serves as a place to become acculturated with a new home, the differences in cultures go beyond the classroom and into the workplace, where the once international student becomes the foreign worker, a fact that can serve as an advantage or as the reason to not be hired. To help our increasing international student population at Suffolk, the International Students Services Office (ISSO) held a panel discussion with alumni to share the challenges, shortcuts, personal advice, and "unwritten rules of the American workplace."
In dealing with cultural differences at work, Priscilla Huang (MS Accounting '12) advised students to "find similarities between [them] and [their] work environment." Focusing on the things you have in common, such as a common professional goal, can help students adapt and focus in the workplace, even if there is a language barrier. Chiara Carnevali (MA Public Relations '12) weighed in on finding a balance between the various cultures that surround you in your workplace, adding a story of the difference she found in authority figures in Italy and the U.S.
"In Italy, you can only speak to your direct manager," she said. "There is no real relationship between the boss and the employee."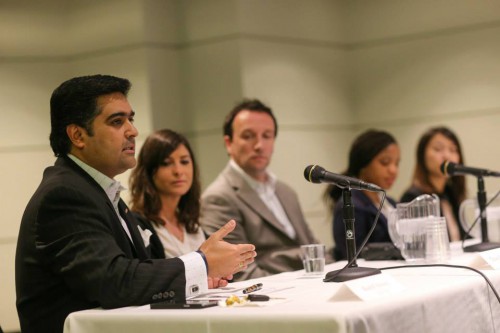 When dealing with a U.S. company, her experience was different.
"In the U.S.," she continued, "I have met with a CEO, who would speak to every employee, shake all of our hands, and ask if we were having any problems that we needed to talk to him about. It was completely different."
International students that want to stay in the U.S. after graduation face the challenge of finding an employer to hire them.
"Being an international student can sometimes be a stigma," said Ruthly Francois (BS Biology '12). "It is the one thing you need to say to get rejected."
However, this should not discourage students. Francois shared an anecdote of when she was applying to internships and found that many only hired U.S. Citizens or permanent residents.
"I emailed them and asked if I could still apply," Francois said. "I ended up getting the position, even though I was international. I didn't take it in the end, but I was glad I asked anyway."
When asked about the importance and weight of hard skills versus soft skills, all of the panelists agreed that soft skills were the heavier ones and they said that soft skills help most in the workplace.
Mark Foulds (GMBA Global Business '11) said that although technical skills are important, that "soft skills are the way you demonstrate your brand."
"Any computer," Kashif Ahmed (MS Finance '98) added, "can replace someone with hard skills. The art comes from soft skills."
Fortunately for international students, this game may be in their favor. Carnevali said that soft skills, or the ability to reach out and connect with people, is something that international students are used to.
"In a way, being international gives you soft skills," she said. "You come here alone, so you have to meet and build relationships with people. We are used to that."
Leave a Comment