Boston Globe sports reporter inspires during banquet at Suffolk
Every year, Suffolk University's Communication and Journalism Department hosts an awards banquet for high school journalists and their faculty and advisers. This year, the event featured guest speaker Shira Springer, an investigative and enterprise reporter for The Boston Globe Sports section, who thrilled the audience with stories on her experiences from covering the Celtics to covering the 2014 Sochi Olympics.
"I think it's important that we support young aspiring journalists," said Springer. "A lot of people see journalism as a dying profession but the enthusiasm of the students here show that's not the case."
Springer took questions from high school students during the Thursday night event in Suffolk's Donahue building. She said students' inquisitive nature impressed her, as she took her time explaining what professional journalism is all about. She also offered insight on how journalism has changed through the years, especially with social media.
She focused her discussion on sports journalism and the difficulty that comes with dealing with professional athletes. Springer advised young journalists to invest time in getting to know athletes and see them as people, not just a collection of different statistics.
To Springer, there is an idea that all journalists do is show up and that stories present themselves. She wants young journalists to know that great stories demand preparation, intelligence, creativity, discipline, and a passion for the job.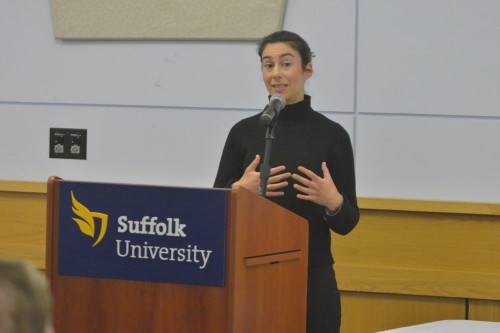 "[To get to the Olympics] it takes a lot of hard work, but not as much as the athletes." she said jokingly.
Despite her passion for the job, she does have some frustrations when it comes to working as a journalist. For example, Springer said that from time to time stories do not turn out the way she wants them to; she could do all the work, the research, and ask all the right questions but the story might still fall short of her own expectations.
These are the different aspects of the job that Springer wishes aspiring students could take away from the event. Springer said she wants students to understand what it means to be a journalist, but also know that there are struggles in the profession.
Springer knows what it is like to be in the field and she wants young journalists to understand it is a difficult process, especially when it comes to press conferences.
"It can be intimidating, it's different one-on-one than in a room of your peers," said Springer. "There's always a hesitancy to participate and you'd rather ask privately."
Springer said she appreciated that universities like Suffolk offer journalism programs and support the youngest aspiring journalists.
Leave a Comment