Dallas Buyers Club not progressive on LGBT portrayal
Allow me a moment of indulgence – I understand that we are all sick of hearing about anything to do with the Oscars, especially after how long the season seemed to be. However the season and its winners have a lot to say about the state of mind of the business and how, despite speaking of advocacy, they do very little to take progressive steps forwards.
There are a handful of things that I could complain about in regards to this year's ceremony. The fact that a notoriously abusive director – David O. Russell – was nominated. That an alleged sexual predator – Woody Allen – was applauded. That despite her breakout role and Oscar win, Lupita Nyong'o may not see the same sort of success that Jennifer Lawrence did since Nyong'o is a young, black actress.
But, what rubbed me the wrong way the most came from the film Dallas Buyers Club.
After being asked by a journalist from CBC News about whether he would have ever considered casting a transgender actor in the role of Rayon in Dallas Buyers Club, Quebec filmmaker Jean-Marc Valle said, "Never. [Are] there any transgender actors?" he said. "I'm not aiming for the real thing. I'm aiming for an experienced actor who wants to portray the thing."
The "thing" in question being a transgender woman. Problematic and dismissive terminology aside, there were two things about this statement that really stuck out to me.
One is that Vallee's choice for an experienced actor came in the form of Jared Leto, someone who had not acted in years and instead was touring the world with his band 30 Seconds to Mars.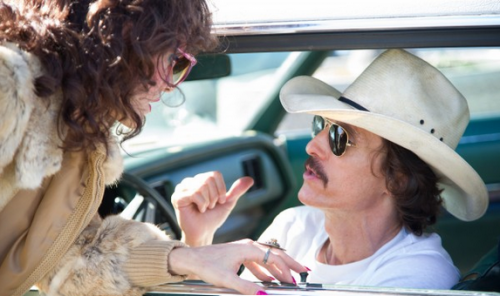 The second thing is that, yes, there most certainly are transgender actresses.
They simply are not as well known because people like Vallee refuse to even think about hiring them. Just to name a few, there is Laverne Cox (Orange is the New Black), Candis Cayne (Elementary, Nip/Tuck), Calpernia Addams (Transamerica), Alexandra Billings (Grey's Anatomy, Eli Stone), Harmony Santana (Gun Hill Road) and more.
I had a list of problems with the film Dallas Buyers Club, (many of which would not belong in an editorial piece) but one of the greatest offenses was how it played on old school Hollywood tropes and had the gall to call itself brave.
Ron Woodroof's character, played by Matthew McConaughey, was written at the start of the film as being a vehemently homophobic individual. However, there has been heavy speculation in the Dallas Voice that the character was openly bisexual in real life. But that would not allow for the same self-gratification motif in the film where the homophobe sees the error of his ways due to a friend in the LGBTQ community.
So instead the filmmaker made sure that we witness Woodroof's straight sexual escapades and then his romancing of Jennifer Garner's character so that we did not forget just how straight he was.
The press ate it up.
How much weight did the two stars loose? How much of Leto had to be waxed and plucked? What was it like dressing up as woman for however many weeks of shooting he had to do? The film's topic is weighty, about the early stages of the AIDS epidemic, and people were more focused on the arbitrary and vanity-consumed aspects rather than the story that was actually being told.
The dismissal of human plight and pain is often seen in the making and selling of a film. How often have we heard straight actors being told that they are brave for "playing gay" in a film? Is this simply the next step, the next hurdle that needs to be crawled over in order to watch media that is not consumed by its own egos?
The movie is said to be progressive, moving and a testament to the age we live in. But, I would say that the movie was more of the same, emotional due to the subject not the story, and without question a negative testament to the age we live in.
Leave a Comment