Disappointing season for men's basketball comes to an end with close loss to Saint Josephs of Maine
Having finished the regular season with a loss against Norwich College, the Rams cannot be satisfied with their season. On Tuesday, the team  continued the unfortunate streak and lost 80-72 in the GNAC,  quarter-final to Saint Josephs of Maine. A rough season has come to an end.
This year has not been easy for men's hoops, as the young team has struggled to find unity and play together. Transformation is never easy for any team, especially when all your seniors graduated last year and your team is lacking experience. A team without unity and experience is dependent on strong individual performances, which we have seen this year, but great individual performances can never compare to great team play. In the long run, individual performances simply are not enough. Basketball is a team sport, not an individual contest.
Another team going through similar difficulties as the Rams this year are the Boston Celtics. Even though D III and the NBA are two different worlds, a shocking amount of similarities can be found between the two teams. The Celtics lost experienced star players last year and are going through a huge transition face which damages the performances of the team and individual performances like the ones of Rajon Rondo has to bring just a little balance in to the equation. Similarly, the Rams lost stars Matt Pepdjonovic and Colin Halpin last year and now have been relying on individual performances because the lack of teamwork and experience.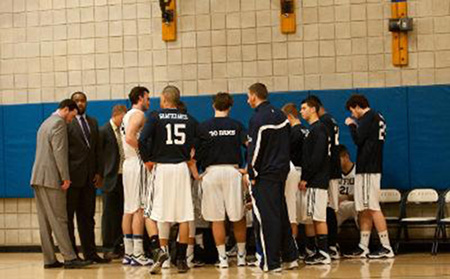 This season the Rams have had a serious case of the Celtics' syndrome, which essentially consists of a teams' transition face and the search for team unity. Despite the tough season, head coach Adam Nelson stays positive.
"It's been kind of a weird season for us. We are young as a team, with no seniors," Nelson said.
"Early on it took us a little while to find our legs and we figured it out and started playing really well towards the middle of the season and had some good wins. I think we hit a little of a low lately and yet again it is the product of being a little young and not understanding the grind of a full college basketball season. That has taken a toll on us. A lot of these guys who have not played at this level before take some time to adjust."
Nelson knows that his team has underperformed this year, but understands that it's always difficult when you coach such a young team as the Rams.
"We didn't finish as well as we wanted too, but we made the playoffs and for us it's a good accomplishment with no seniors on the roster," he said.
Next year the Rams will finally have seniors on the team as this year's juniors enter the final year of college.
"We have got to build on an average season to get better for the next one," Nelson said. "We have to learn from the good, the bad and the ugly to continue to grow. A lot of our sophomores are getting better and hopefully our freshmen are going to make that step next year. We know what it takes to win games in this league, because we've done it, we just got to be more consistent in doing it."
Most importantly, the team has to be more focused during games and practices and have the right attitude every day.
"It's improving the mentality of showing up every day ready to play and practice. You got to practice. You got to practice hard 100 percent of the time and you got to play hard during the games 100 percent of the time. And because we are young, I don't think we always get that. Sometimes we go through the motions a little bit. We gave a couple of games away this year, were we just though we were the better team, we just showed up and lost. We can't do that," Nelson said.
Looking back at a chaotic season, Suffolk needs to focus on the positive aspects and keep in mind that the team can compete with the best GNAC teams if it gains experience, the right mentality, and better team work next season.
Leave a Comment