Snow postpones two games, final week of the season
Suffolk University's women's basketball season has had all kinds of twists and turns, it is only right that they team finish off the season with a surprise three-game week.
Due to snow last Thursday, the Lady Rams will have to face MCLA this Thursday, a week after the contest was postponed. Little did Suffolk know that more snow would hit Tuesday afternoon, causing another postponement in its game against Anna Maria.
The Lady Rams (13-9) will now have to finish off the regular season with three games in just four days.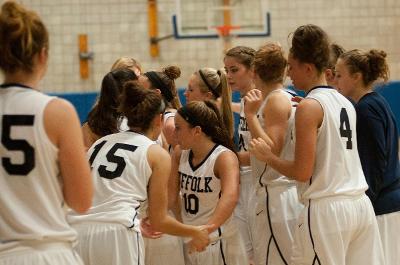 It seems only right that an unusual season ends in an extremely bizarre manner. The Lady Rams will have one more big hurdle this week with their stacked schedule, but they are all games that cannot be taken lightly.
Standing No. 4 in the GNAC, the Lady Rams have two conference games this week that will be key for them to have a home game in the playoffs.
Wednesday, they face Anna Maria, who may not be the most threatening of teams in the GNAC, but are still an opponent that they do not want to fall asleep on.
Anna Maria (11-12) have beaten four conference opponents this season, but more importantly, are still alive for playoff contention, so this game is a must win for them.
The next game will be against MCLA tomorrow, but then on Saturday they will face Norwich at home.
Norwich (13-10) will be the final opponent for the Lady Rams, and the most evenly matched adversary they have faced. Both have the same amount of wins, but the Lady Rams have more conference victories, so just like Anna Maria, a lot is riding on this game for Norwich.
Playoff position is on the line for most teams in the GNAC with such tight competition down the conference. The Lady Rams sit in what might be the most dangerous spot at No. 4, which would have them playing at home against Johnson & Wales in the first round.
Last time they met, it was a double-overtime thriller with the Lady Rams pulling out a win. A game against an opponent with a fresh chip on their shoulder is not the type of match-up the Lady Rams want on the road.
It is important that the Lady Rams defeat Anna Maria and Norwich this week to have a shot of getting home court advantage in the playoffs for at least the first game.
Leave a Comment