Singer Yuna visits snowy Allston to deliver her sweet sounds
Jarell Perry, a supporting act for Yuna's show was visiting Boston for the first time as he accepted the call to join Yuna on her North American Nocturnal Tour.
Perry introduced a palm tree, Southern California feel to his complex and cool sound. The singer delivers a backyard-type session turned live as he surprises the audience with his rendition of Drake's "Come Thru" from the album Nothing Was the Same.
As Perry delivered songs like "Braindead" he seemed to deliver a type of sound that you can imagine adding to your playlist as you are cruising down the Pacific Coast Highway. The DJ allocated to Jarell Perry's performance was comfortable in a black Stussy hoodie as he spinned the set list as if it were any other house party performance.
"I heard Yuna was going on tour, so we packed our bags and headed to Chicago, entering a polar vortex," joked the Los Angeles native.
The young performer closes his set by sharing with the audience an announcement of his new showcase being presented at SXSW later this year. Perry also presents the appreciation for his White EP as he leaves a positive energy on the stage for the headliner, Yuna.
"Well you know the first time I was out here, I was in direct support for a band called Graffiti Six and that was a lot of fun," said Malaysian singer/songwriter Yuna (Yunalis Mat Zara'ai) about returning to the famed Brighton Music Hall venue once again. "I'm excited to be performing here again basically because as we know I'm headlining and everybody who is going to come probably has my album and they have heard my songs. It's different from the last time I was out here, it's kind of like you have to meet people for the first time, like a blind date. You are presenting something for the first time but this is like I guess people are curious to see how I perform live."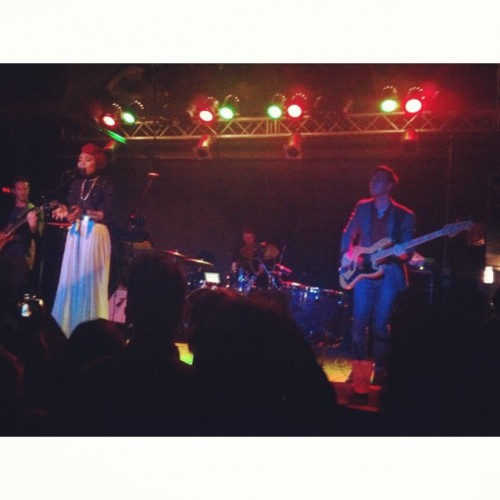 Visiting Allston, MA for the second time, Yuna visited the Boston area under different conditions as she returned to the snowy city – currently headlining her first tour, Nocturnal. A set of charming looking men enter the stage as they take their places to tune and adjust their instruments. After a few minutes seem to pass, Yuna enters center stage as she enters her first song of the evening's jam session.
"I have been here [Brighton Music Hall] before, I had a really good Pho really good Vietniemese food place at Le's Restaurant. I never had the opportunity to really explore too much around the city of Boston. I saw Arctic Monkeys were going to perform," as Yuna gathers her excitement as she tries to remember the name of the local venue.
Playing songs like "Lullabies" and "Coffee" Yuna adds a moment of soft soothing sound throughout the audience as she warms up the walls of music venue. With Christmas lights draped across the ceiling of the large open venue, it seemed to be sweet escape from the cold conditions outdoors as artist Yuna sings into one of her two standing microphones with her performance of "Tourist."
"So far it's been a really cool experience for me, so far everything has been like white. I have been snapping photos and showing them all with my friends back home, showing them how my days are."
Before closing her show, Yuna was able to please members of her audience as she performed her cover of Frank Ocean's hit "Thinkin 'Bout You" as the crowd danced and sang along to the classic cover. Not only did Yuna become one of the better artists to emerge from her interpretation of the song, but she was also an artist that has hit upon the like of Grammy award-winning producer Pharrell Williams.
"The Frank Ocean cover was a lot of fun. I recorded that song not knowing that the song was super huge. I did the cover before the album came out so by the time I released the song, everybody was talking about it and I had no idea," explained Yuna. "Like I really thought the album was really important to me, I kind of kept it in my own little world. People would Google that song and kind of come across me." The singer expresses her interest in the new fans she has gained.
Shortly after Yuna closed her set and followed her band to exit stage left, it wasn't long until her fans began to chant "Yuna! Yuna! Yuna!" as the singer reappeared on the stage, all smiles as she performed her feel-good lyrics to "Live Your Life."
"I think for this album, last year I was listening to a lot of sub tracks and I was really inspired, so that's how you see a bit of that influence in there," as Yuna shares a few of her inspirations. "Oh, I love Hiam – I found out about them about two years ago in this festival in Maryland. They carry a lot of percussion in their music and it inspired me to add percussions to some of my songs."
As a graduate of law school, the singer/songwriter proves that true talent can lie within many different variations. Yuna has released her most recent album Nocturnal last year, following her first album self-titled Yuna and EP Decorate.
"I haven't been gathering new materials for a very long time because I was so into this album but then you start like thinking again, 'oh this may be a cool idea for the next album' or you listen to something like 'this may be a good direction' for the next album."
Currently also hailing from Los Angeles, Calif. the sincere singer left her audience with the hopes that she will return to Boston with her pleasant and positive songs. Sharing a warm energy with her soft sound, the show set a sensational feel just in time for the lovely upcoming Valentine's Day.
Leave a Comment