Suffolk branch of Amnesty International brings human rights awareness to campus
Amnesty International is regarded globally as one of the leading advocates and watchdogs for human rights. The group is one of the oldest human rights groups in the world, and has been responsible for documenting atrocities and rights violations in various conflicts and suppressed nations.
Here on campus, the Suffolk University Amnesty International chapter (SUAI) represents the organization. SUAI aims to educate Suffolk on human rights violations around the globe.
"SUAI functions as the voice for human rights on campus. We aim to foster awareness and open dialogue and discussion of various human rights violations going on locally and abroad," said Theresa Stevens, co-founder and president of SUAI. Stevens, a sophomore international relations major, helped to start the organization last year.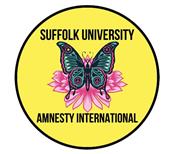 SUAI attempts to facilitate dialogue on campus by engaging in "awareness campaigns." Usually taking the form of tabling around campus, these campaigns aim to ignite discussion on rights violations taking place in countries like Syria, Iran, Russia, and even here in America.
The group also co-sponsors events with other student organizations on campus. "Our main event that garners a lot of interest is a day-trip to New York City to peacefully protest outside of embassies and consulates regarding specified human rights issues. This event is organized by a local Amnesty group and this year will take place on April 11," Stevens said.
SUAI's parent organization also holds events for the chapter to attend. This past November, the group attended Amnesty International's AIUSA Northeast Regional Conference at Boston University. On March 1, SUAI will be attending a regional conference that is going to bring together all of the college and high school chapters of Amnesty International in the Northeast for a day of networking, organizing and activism.
Students interested in getting involved with SUAI should attend the bi-weekly meetings. The group meets every other Thursday at 12:30 pm in Sawyer 1122.
"Students should be interested in getting involved with SUAI because we are all human and there are so many human rights being violated all over the world, all of the time. It is important to stay aware of these issues and do our best to challenge them through peaceful activism," Stevens said.
Leave a Comment