At the start of Dylan Farrow's letter, published this past weekend, she asks readers what their favorite Woody Allen film is. Before the reader has had a chance to think about this, she's gone on to write a detailed piece on the horrors she faced as a child from her adoptive father, director Woody Allen. She speaks of the abuse and the shame it created. Throughout the letter she talks of stomach churning ordeals that she faced until she alerted her mother to what was transpiring. This wasn't just a letter for her but a letter for anyone who has been a victim of sexual assault as well as forced silence.
She wrote, "what if it had been your child, Cate Blanchett? Louis CK? Alec Baldwin? What if it had been you, Emma Stone? Or you, Scarlett Johansson? You knew me when I was a little girl, Diane Keaton. Have you forgotten me? Woody Allen is a living testament to the way our society fails the survivors of sexual assault and abuse. So imagine your seven-year-old daughter being led into an attic by Woody Allen. Imagine she spends a lifetime stricken with nausea at the mention of his name. Imagine a world that celebrates her tormenter."
The letter shines an unflinching and unflattering light not only on Hollywood but on culture as a whole, a culture that would rather play at ignorance than face an ugly truth.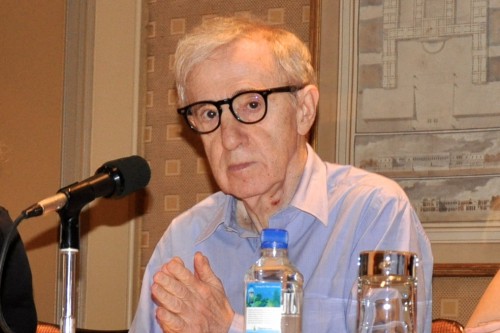 People are already speaking out about the letter but not in the way one would hope. A writer and glorified fanboy of Allen's, Robert B. Weide, wrote an article for The Daily Beast to defend Allen by casting doubt towards Mia Farrow's intentions and trying to use Allen's widely publicized neurosis as evidence of his innocence. There has been an outcry of support for the director ranging from actor Alec Baldwin and television personality Barbara Walters to the odd cinema aficionados who do not want to admit that their hero behind Annie Hall and Manhattan may have committed an unforgiveable act.
Audiences seem more concerned about actress Cate Blanchett winning an Oscar for the latest Allen film Blue Jasmine than the allegations shot at Allen himself.
So, who is standing in Dylan's corner? Who is speaking on her behalf after she was forced to speak for herself? Her family, Mia and Ronan Farrow, have been outspoken about what they claim transpired, but who else? As of now it consists of activists and young Hollywood television starlets who are beyond the reach of Allen's weighty influence.
To trivialize the plights of a sexual abuse victim due to the face attached to the accused is repugnant and shows the inherent nature of contempt that society casts on such survivors. The acts that Allen has been accused of are disgusting and vile and I cannot stomach nor fathom how he continues to be applauded by the movie industry and fans alike.
Is the value of his "art" and contribution to film so tremendous that you can prioritize it over a young girl's well-being and mental health?
It is ominous to see how quiet the movie world is being over the recent reports. When pop star Justin Bieber was at the height of his reckless and obnoxious behavior, celebrities from all wakes of life were running to Twitter to make sure their negative opinions were heard. When actor Philip Seymour Hoffman died this past Sunday, there were those in the entertainment industry who had no problem voicing opinions about the death being Hoffman's own fault for having been "stupid" enough to be dealing with drug addiction, an illness.
Yet when Allen – a man held to much prestige, a man who actors credit as having built their careers – when he's accused of having molested a 7-year-old girl, the industry goes tight-lipped. Unfortunately it appears to be easier to condemn the dead or shame the adolescent rather than speak out against the man with the deep pockets and heavy influence.
Allen has never been convicted – yes, true. And, the motto is in fact innocent until proven guilty. However, my mind works in such ways that I am predisposed to believe the girl who has nothing to lose and a painful history rather than the man who has everything to lose and a past riddled with suspicion.
Farrow is courageous beyond comprehension for this letter. I have come to understand that finding compassion in people, certainly as a collective, is hard fought for, but if there is any spared it should be sent to this brave young woman and all those like her. Compassion and kindness should be sent in the way of a young woman who has spent most of her life being told to quiet down while seeing and hearing the face and voice of her abuser as he is awarded at every turn.