Women's basketball stumbles into first losing streak in a year
The month of February is upon the Suffolk University Lady Rams, and basketball season is heading into the final month of regular season games.
The Lady Rams have shown some inconsistency throughout the past two weeks, but are fighting to stay on their feet. From team captain Jennifer Ruys getting injured, to losing to Emmanuel in double digits on their own home court, the struggle is alive and well.
The past eight games, the Lady Rams have matched every win with a loss the following week. That is a 4-4 record, which drops their conference record to 4-2, with the only positive being that Emmanuel was their biggest challenge in their way. The loss to Emmanuel, 76-63, was a devastating loss, but still not their worst. They lost in non-conference game at Endicott, which was lopsided with the Ruys inactive for the game, which had a final score of 50-38.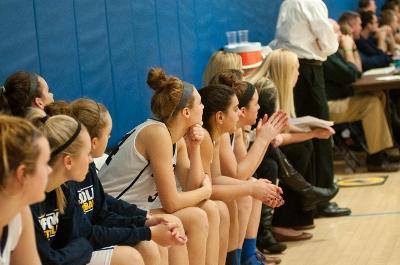 Seven games are left in the regular season, after they faced UMass Boston Beacons last night. The pattern of a win following a loss came to an end, as the Lady Rams are on a losing streak. UMass Boston handed them their second loss in a row, defeating the Lady Rams 74-71.
The Lady Rams fell behind in the second half, even though they managed keeping it close. Ruys scored an impressive 28 points, recording 41 minutes of playing time, and 10 rebounds. She shot well, making 11 of 20  and all of her free throws.
The duo-guards, Shelby Santini and Kelsey Schiebel, combined for 26 points and six assists. They also played well on the boards, including Iliana Quadri, combining for eight rebounds.
Five players on the Beacons managed to score double digits in their win. Olivia Murphy, the tall forward, had 16 points and three blocks.
The Beacons (12-8) are not in the Lady Rams' conference, so they will go off their own way this season.
The Lady Rams (10-8) are going on a bad skid of games, and now have to go on a three-game road trip. They take on Mount Ida this Thursday, followed by Johnson & Wales this Saturday, and Middlebury Tuesday night.
The first losing streak by the Lady Rams all year should be enough motivation for them to play especially hard on the road this week to not let it happen again.
Leave a Comment