Fewer students seem passionate about college media
One of my first and fondest memories from my freshman year at Suffolk was when I attended my first Suffolk Journal meeting and there wasn't a seat to be found in Donahue 535. It was a standing room only meeting and there were more people than stories available for the week. Being on the Journal staff for all of my 3.5 years at Suffolk, it is sad to say but I have seen the number of staff writers dwindle down each and every semester.
This is not just an issue for the Journal but for all the Suffolk media clubs. From the Voice to Suffolk Free Radio, all the media clubs have seen a drought in passionate students that want to be involved and hold editor or manager positions.
That does not mean that there are zero passionate CJN majors left around Beacon Hill. Every media group can point to its "go-to" writers or DJs and that is great to see. The problem is those "go-getter" types are becoming harder and harder to come by at Suffolk.
There are about 180ish print and broadcast journalism majors currently enrolled at this university. Despite these numbers however, I cannot tell you how many classes I have had with fellow journalism majors and know quite a few who have never written for the Journal or the Voice. I just do not understand why those students choose not to get involved with either newspaper on campus.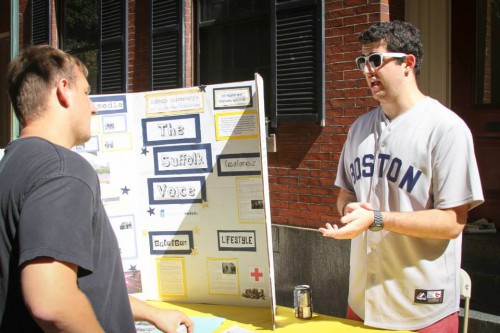 In the Journal's case, perhaps it is the recent belief by many that newspapers are a dying breed. That simply is not the case. If physical newspapers no longer exist, do not think that means the New York Times or Boston Globe are going bankrupt. The print news industry is changing, not dying.
Even if print newspapers no longer exist at some point in the future, school newspapers will always be around. Students are far more likely to pick up a paper while waiting 10 minutes for an elevator in Sawyer or Donahue than they are to ignore Reddit, Amazon or Pandora for 10 minutes to check out their school newspaper's website. That is not going to change regardless of what happens in the professional side of this industry.
Speaking of the professional side, having clips from your college's newspaper carries a lot more weight than you might think when applying for internships or your first job in journalism. I know I was asked about my time with the Journal while interviewing for my Boston Globe sports co-op last winter. Oh, and one of the reasons I received my first interview was thanks to a verbal recommendation from a former sports editor for the Voice.
The bottom line is, if you want to get a job in broadcast, print or online journalism: having clips from your work with the Journal, Voice or your radio show on SFR helps a great deal. All three outlets are some of the only real options at Suffolk to see one's work published and available to more than just 19 fellow classmates and a professor. Your interviewer does not want to see the mid-term paper you wrote for Journalism II, they want to see your published interview with President McCarthy about how Suffolk helps with student loans.
If journalism is not what you want to do but you are intrigued, go to a meeting for the outlet that seems most up your alley. None of us bite and the reason our organizations exist is to make our members better at what they are interested in while doing so in a relaxed atmosphere.
I think I can speak for any editorial or managerial member of all the Suffolk media clubs when I say that what we do is a labor of love. We do not get paychecks for what we do. What we get out of our involvement is being prideful of what our hard work produces. It is unfortunate to see each new class of students come into this university and see fewer and fewer showing the same drive and interest that I saw when I struggled to find a seat in Donahue 535 just a few years ago.