Suffolk's Black Student Union hosts annual African Diaspora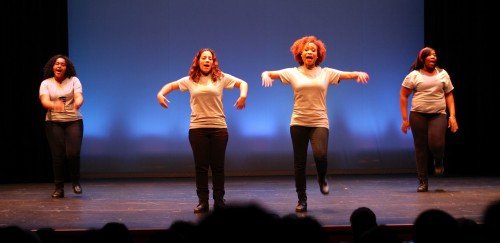 Suffolk's Black Student Union hosted an energetic and cultural show filled with performances by performers from the Boston area. In "African Diaspora," an event that aimed to showcase the African culture through dance and art, the audience enjoyed special group appearances, rapping, dancing, and singing from local artists and Suffolk students at the C. Walsh Theater on Nov. 22.
The show was introduced by a performance of the Black National Anthem, historically known as a poem titled "Lift Every Voice and Sing" that was written as a gift to President Lincoln. Its lyrics express hope and patriotism for people that have struggled through harsh circumstances, and it is still heard loudly in African-American churches and was even performed at the inauguration of President Obama.
The first act was by a local citizen that goes by the name "Mental Enlightenment," a "spoken word artist, rapper, poet, inventor, and entrepreneur." ME performed an original piece titled "Evolution of Me." She described it as a combination of several poems that she has written throughout her life, and it is a work about self-expression and life.
Following ME was a dance group from the greater Boston area who were inspired to join together and perform after the loss of a mutual friend who loved the art. The members' performance was a compilation of popular songs and original mixes, as well as a number of skits that transitioned some songs to the next.
Masimba Francis, a Suffolk student known as "$ims" who produces his own music, performed an original rap called "Where You At". Francis "was born and raised in Harare, Zimbabwe" and is "an aspiring upcoming musician [who] entered the recording bizz up in 2009. Before $ims ventured out into his own self-recording artist, $ims was part of a boy band group named 'New Era Boys' which $ims and his two friends founded," as described on his website www.theforeignking.com.
[nggallery id=13]
Another group representing SU was "W!cked," Suffolk's step team. W!cked has received numerous recognitions in regional competitions, and it is currently preparing for a large competition for spring 2014. Its performance was with four of its members that told the story of getting secret revenge on an ex-lover.
A crowd favorite was by Massachusetts native "Choppa The Beatboxa," who thrilled the audience with impressive beat boxing skills and a selection of tunes that all guests were able to sing along or move to. Choppa entertained the audience using only his vocal skills and an audio recorder that would amplify and mix the recordings he made live. His work can be found on Twitter @choppabeatbox.
Following the show, a reception was held at the Sawyer Lounge, where food and drinks were served. Guests were invited to join BSU to meet the performers to receive more information on how to support the local artists while mixes by DJ Charlie B played in the background. For more information on the performers of this show and future event, reach out to BSU at [email protected].
Leave a Comment