Eco-friendly homewares
Article by: Angela Bray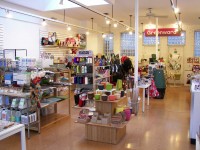 Greenward, an exclusive eco-modern shop, is located on Mass Ave. in Porter Square. The local business is owned by Scott Walker and his wife, Simone. Greenward's beginnings started when Walker and his wife wanted  "to give people of the Cambridge and Somerville area the option of sustainable products, which can be hard to find," said employee Leah Gillespie. "Everything in the store is recycled or promotes sustainable living, and we try to buy local as much as possible," said Gillespie. "We have a little of everything."
The store sells everything from household goods to toys for babies and pets. Products also include a vast selection of accessories, stationary, and gifts. Cheerful, attention-grabbing greeting cards, journals, and notebooks are made of 100 percent recycled paper. Bambu, "the perfect alternative, naturally," produces products made of bamboo that are sustainably harvested and free of pesticides and fertilizer. The collection includes pot scrapers, spreaders, sporks, and cutting boards. Preserve tableware, such as cups, bowls, plates, and utensils are reusable, dishwasher-safe, and made of 100 percent recycled plastic. Cleaning products, hand soap, and dish soap line the shelves with the shop's everyday housewares.
While going green is still new to some consumers, it is gaining popularity.
"Up until recently in our generation, the thought of eco-friendly materials or green-based products were unfamiliar," said Mike Gallagher of Lowell. Some may find it as a new money-making business when in fact, it's probably one of the wisest forms of production and consumption ways of living."
"Customers love the breath of things we have," said Gillespie. "People come in for one thing, then see everything else we have, and end up leaving with a few more items."
Lunch items are among the shop's most popular merchandise. The snackTAXI sacks, an alternative to plastic bags and wraps, are composed of cotton cloth with a nylon interior. SnackTAXI sacks are available in a variety of patterns. Greenward's online shop promotes each reusable bag to have "the potential to eliminate an average of one-thousand plastic bags over its lifetime." SnackTAXI sacks, as well as Lunchskins, are easy to use for work and school. Lunchskins are reusable, colorful, polyurethane-lined and moisture-proof cloth pouches, and are used for sandwiches and snacks.
Books such as The Organic Cook's Bible and How to Cook Everything Vegetarian are displayed on the shelves of Greenward's book selection. Publications feature energy and environmental issues, food, agriculture, green design, kids, transportation, and green business.
Pet shampoo, conditioner, toys, and organic food line the wall next to the baby section. Natural markers, paint, and soy crayons are set next to "Gro baby" diapers, toys, and clothing. Another section displays ICU recycled reading glasses, bedding fabrics, and recyclable tote bags.
Greenward, located at 1764 Mass Ave, is open all week. More information can be found on their website, greenwardshop.com
Leave a Comment