Suffolk Madrid Association brings Spanish culture to Boston, helps students adjust to new environment
Australia, Italy, Vietnam, Spain – these are just a few of the places that students at Suffolk University can study abroad. Suffolk boasts an international reach that fosters global education for many students.
Most students are often attracted to the largest city and capital of Spain, Madrid, where Suffolk has its own campus. One can choose to go for a semester or two, or even stay for two years instead of studying on the Boston campus for a traditional four years.
What happens when students come back from studying abroad? Do they seamlessly settle in and make friends with students who have been attending school in Boston? Likewise, do students who are currently studying in Boston easily make the choice to study in Madrid? This gray area is where the Suffolk Madrid Association comes in.
"The idea for the club was started, in the most general sense, during my transition from the Madrid Campus back to Boston. I saw among my peers a need to extend the excitement surrounding Madrid to Boston. The club itself wasn't started until I collaborated with friends from Madrid and also Alina Choo, my boss, and Melanie Funken, both of whom were heavily involved with the Madrid Campus," said President of the Madrid Association Jonathan Vantassel.
The Suffolk Madrid Association is a fairly new club. It has been around for less than two years, and was established as a common place for students to network and share anecdotes and stories from their study abroad trips.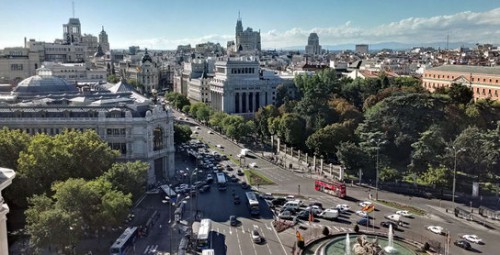 "We provide a forum for students to be able to congregate and keep their experiences alive," said Choo.
Meeting on the first Thursday of every month, the club is also a place to promote and inform students about the Madrid experience. "Membership is not only open to students who have been to Madrid, it is also open to those who are interested in going for future semesters. You can find out more about the student perspective through attending our events," says Choo. One such event was a Skype party held on Nov. 12, with students in Madrid. Students were able to ask each other questions and make acquaintances from thousands of miles away.
They also send care packages to and from Madrid and Boston. Choo believes that the gifts help strengthen the ties between the Boston and Madrid campuses.
In terms of their initiative to promote the Madrid experience, Choo said, "I definitely think that studying abroad is important because it's a way to get you out of your comfort zone and experience another culture and another way of life, and it can enrich your experience as a student." So far, over 60 students have participated in events that the club has held and many have also expressed interest in studying abroad after attending its open meetings.
Suffolk Madrid Association continues to form events that are related to Spanish culture and to the Madrid campus. It is best to stay informed on the group's upcoming events via its Facebook. Vantassel mentioned that on Nov. 18 it will bring a chef to Suffolk to demonstrate how to make paella, the delectable and national dish of Spain.
Leave a Comment