Gun violence still needlessly taking lives
On July 20, 2012, 20 people were killed and 58 were wounded in an attack in Aurora, Colo. in a movie theater playing a midnight screening. It was devastating; it shook the public to know that such a scene could take place where people sat unsuspecting. It made it so when the warnings pop up before the movies play to check where the exits are; the audience takes heed, so that when you are choosing your seat maybe a second look is taken. The shooting made us cautious.
On Dec. 14, 2012, an armed man entered Sandy Hook Elementary School in Newtown, Conn. and gunned down 26 individuals, including 20 school children before turning the gun on himself.
As a collective unit, as a country that prides itself on our youth and on its ability to protect, we promised that things would get better after that massacre of innocence. We questioned how it was possible that such a despicable crime could take place in a small town, in a place that was considered safe and nurturing. We asked how it could possibly get worse and those few still hopeful said surely after this tragedy the government would make it harder to attain a gun and decrease the likelihood of more deaths by gun violence. The shooting made us furious.
Then, only a few months back on Sept. 16, 2013, a man walked into a Navy Yard and shot and killed 12 people. In a year that had already seen so many tragedies take place the public was in need of answers: why did this happen, why was this man allowed access to what ideally would be a heavily secured unit, how was it that a man who has been rumored to be struggling with erratic behavior, who had been arrested two times previously for gun related incidents, gain possession of one? After the shooting we learned the repercussions of complacency.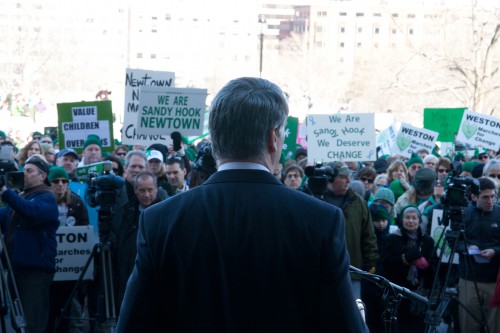 On Nov. 1, 2013 there was a shooting in the LAX airport where one man was killed, and only a few days later a man walked into a New Jersey mall and began shooting.
It is time to ask what on earth is happening.
How is it that in the wake of so much gun violence, a member of society may successfully go about their day and feel safe?
We have discussed the issue, shouted over the issue, in some cases have wept over the issue, so why is it that when you turn on the news, or open a paper or receive an update on your phone that it seems that the violence is only increasing? When did our fear turn into normality? When did our shock and outrage at these shocking news events turn into society simply nodding their heads in apathy?
This is a cause to be furious over. Guns have needlessly taken the lives of too many innocents in the past year and despite our initial response to action, to have a stricter gun law put into motion, to have more thorough background checks on gun owners, to make sure that those who purchase a gun do so safely, lawfully and without any ailments that could result in the irresponsible ownership.
Law officials and society alike believed that after 20 school children were shot and killed that these laws would be changed, that rather than being prepared we would be proactive, protected. But instead nothing has happened, nothing has changed, and more and more humans seem to be on the receiving end of gun violence each day.
This is disgusting.
It is appalling that we are so quiet about the issue. If we continue to do nothing but watch our television screens in horror, send out Twitter remarks saying that our hopes and prayers are with the families of the victims of an event, hide behind our screens and word limits and hope that things get better we can only anticipate another year of sorrow and rising gun violence.
Words are arbitrary. Discussion is important and we need to be discussing this issue more than ever. What on earth has happened and why on earth has it taken us this long to ask this question?
How do we stop gun violence?
Leave a Comment