Martial artist Forbes Lau shines during Homecoming Week
Q: When did you start doing martial arts?  
A: I started my freshman year of high school, and ever since it's been amazing, to be honest.
Q: How long have you been doing it?
A: Ever since freshman year it's been life changing for me. It's changed my life in so many ways I can't even describe it.
Q: What made you want to continue?
A: There are a lot of bad things going on in my life, and I think I'm just fighting for that opportunity to get out there. I'm just fighting for that future. Martial arts is that way for me to put it behind, I just want to move forward. Its been helping me release my pain, release my anger.
Q: What got you into martial arts?
A: My friend in high school wanted to do a major performance for our school, he was in Taekwondo group. And ever since he introduced it to me everything started coming together.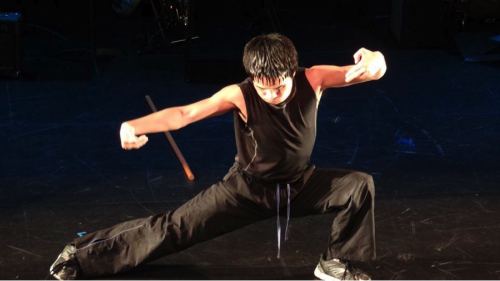 Q: Why do you enjoy doing martial arts?
A: To me when it comes to martial arts I like how open it is. There are so many benefits. Physical benefits, I'm able to strike harder, move faster, reflexes are a lot faster, and it's helped my asthma a lot.
Q: What is your favorite part about doing martial arts?
A: The training is my favorite part; I like how it clears my head. It makes me feel very relaxed and very calm. What I like about it for sure is the body transitions, and the movements in general. So many doors open up from that. What I definitely like is the clarity, the sense of peace I would call it.
Q: When and where do you usually practice? Perform?
A: Any quiet place I am able to practice in, that works the best for me. 10 West is my favorite place.
Q: How was Fall Fest for you?
A: I think I made a mark for sure. I feel like my life is taking a step in the right direction, and I can say that with confidence. Ever since high school its put my life back in perspective. Now given the opportunity to let this all go for the performance,it was a great step in the direction.
Q: Will you try to continue doing martial arts on campus here at Suffolk University?
A: I honestly would love to. If I don't transfer, it's definitely [possible] for sure. So whoever enjoyed it, can definitely look forward to that.
Leave a Comment