SUPD should expand escort service
Just out of curiosity, how many commuter students stay late and does not take the T where Suffolk has jurisdiction? How many of you are concerned for your safety whenever you stay late? I wasn't, really. I have the kind of swift walk and, at times, downright rude and eviscerating face that I thought would allow me to evade any kind of danger. But last week around 9 p.m., as I erroneously waited for the bus to pass by a stop close to downtown crossing, I was approached by four people. It was actually Columbus Day so I was waiting for a bus that normally doesn't come on the Saturday schedule. In a nutshell, a drunk man stepped forward, and from about an inch away asked me a few lewd questions. Normally I don't respond, and normally I pretend to be occupied and hard of hearing, but not that night. He was so close to my face and so drunk that he didn't move and looked right into me waiting for a response. I responded, "No." And, to that, I got a "Fine, [expletive] you then!" He and his group of friends callously left. Did I mention that he slapped my thigh with the bottle of Hennessy that was in his right hand? I subsequently called someone close to me and they advised me to carry pepper spray. But, to that I said, "What is pepper spray going to do when a group of four men approach me? Am I really going to search through my bottomless bag to find pepper spray?"
This next part is where it gets good. Before I continue on, I feel inclined to mention that this is in no way intended to be an insult to the Suffolk University Police. This is intended to open up a dialogue on how to make students at Suffolk who participate in clubs and activities feel safer.
Knowing about the escort service at Suffolk, the next day I asked security if I could please get an escort. I explained what happened and the man at the desk looked concerned. He handed me a whistle, saying, "It's not much, but it's what we have." He then called someone else to come take down my report. The police officer to whom I spoke to asked me all of the right questions, took down my information, and said he would call me back after speaking to the appropriate persons, but also added that he didn't know if it was possible because Suffolk escorts don't have jurisdiction in those places.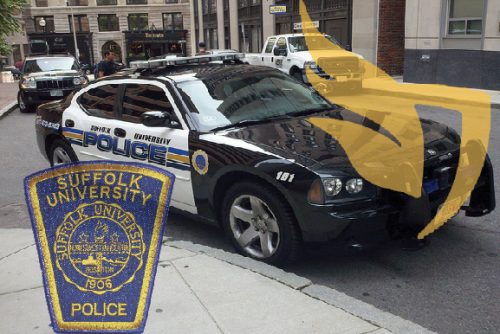 This is what it says on Suffolk University's Campus Escorts page:
"A University Police and/or Security Officer will provide walking escorts to and from any building owned, used or occupied by Suffolk University. Escort services are also available from any campus building to the entrance of the Park Street MBTA station, Charles River Parking Garage, Staniford Street Parking Garage, Center Plaza Parking Garage, and Government Center MBTA station.
To request a walking escort, call in advance, 617-573-8333, and a uniformed officer will meet you at a designated location."
I understand rules and technicalities, so I explained to him that even if I couldn't be escorted, I'd be interested in talking to him or someone about the options I have and how I can stay safe. He said he'd call me back, but never did.
I wonder if he didn't call me because his supervisor told him SUPD can't do anything, because he lost my number, or simply because he forgot. Even so, I still wonder what I'm going to do at night. I don't want to have to carry pepper spray, or even worse, a knife. And, I don't want to have to compromise on the activities I'm involved in at Suffolk University because of fear. But, it's a very real fear and I never anticipated having to worry about something like this. I am aware that inclusion is huge on the Suffolk agenda, so I don't think that this is something a student like me should have to worry about. I now wonder how many students simply don't participate in clubs because of fear of their nightly commute.
I'm concerned because I know for a fact that I'm not the only Suffolk student who isn't commuting on the Park Street or Government Center stops, for example.
With that said, I am challenging the Suffolk University Police to expand on its policies so that they can ensure that students are not only safe but that they feel comfortable taking a night class or staying later to participate in Suffolk's activities. If Suffolk University feels it is its responsibility to take care of its students, and if the school constantly encourages inclusion, then it shouldn't wait until a student is assaulted or even worse in order to start a movement towards taking care of them. I suspect that if steps are taken to expand the escort service, or a campaign is started to educate students on how they can protect themselves, more students would be involved at Suffolk. Until then, I am personally relying on luck and an issued whistle.
View Comments (1)